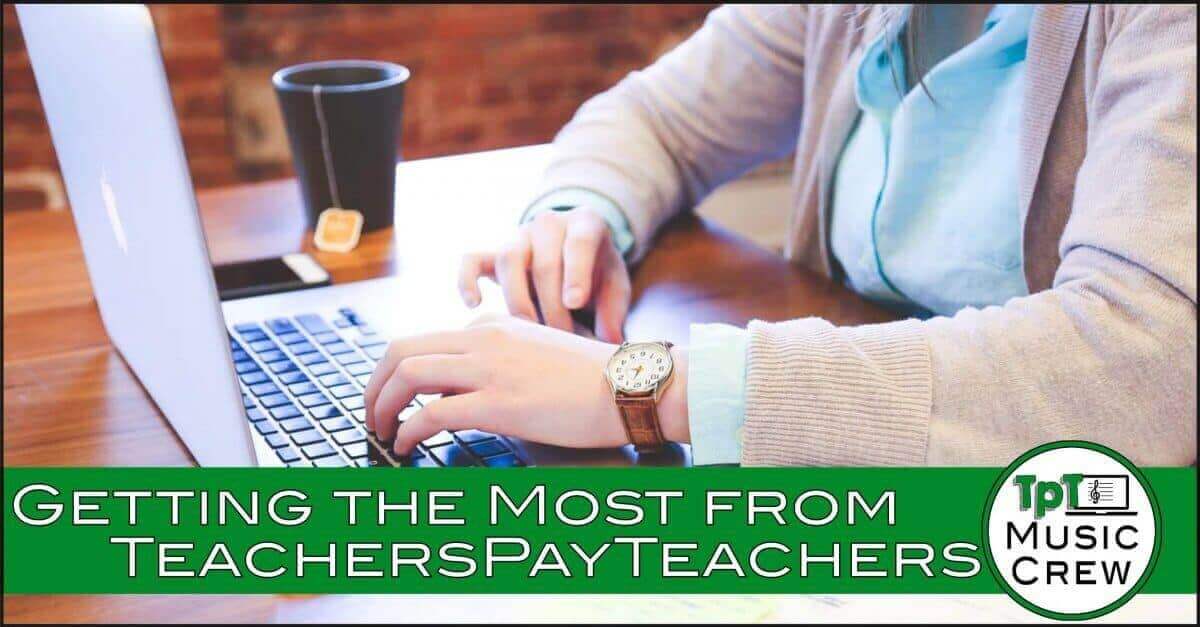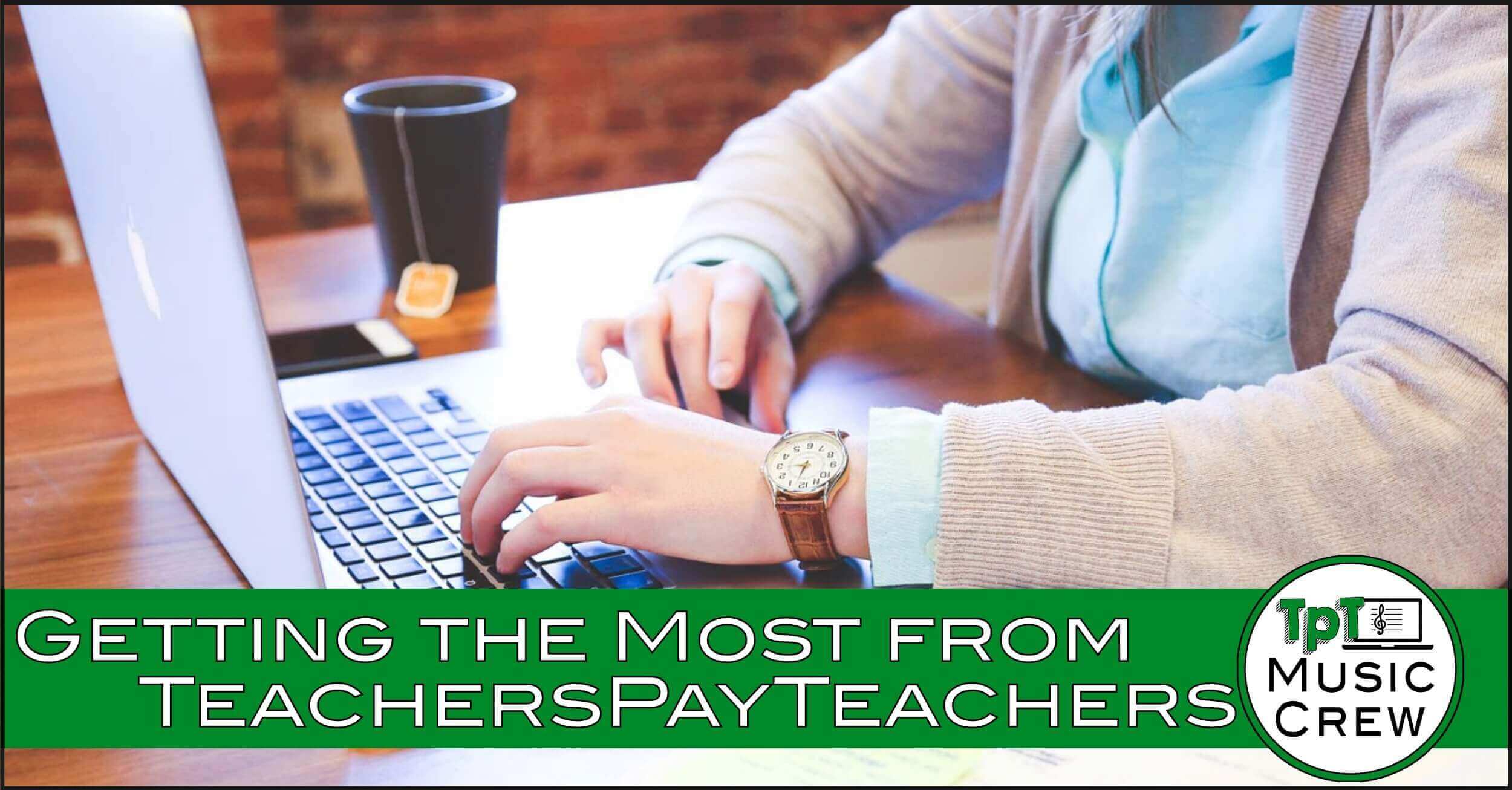 TeachersPayTeachers is an amazing, ever-growing resource for music teachers! But we know that sometimes it can be hard to navigate the website, find what you need, and get the most out of the resources you have. And even if you're comfortable finding your way around, we think we may have a few tricks to take your TPT game to the next level! Here are some of our favorite tips to get the most out of this amazing resource we call TeachersPayTeachers.
Searching
You can always search for what you need using the search bar at the top of the page- use as many keywords as you can, and try a few different variations (like if you're searching for lessons on music in movies, you may want to try the word "movie" and "film" in your search).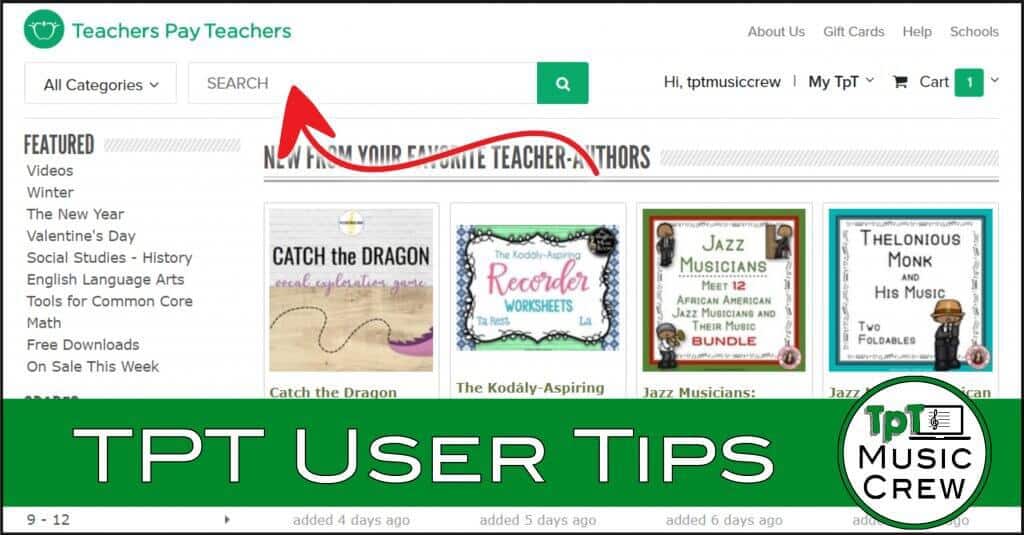 Insider tip: did you know that the Music Crew sends out newsletters twice a month? One thing we include in every issue is a curation of timely resources around a particular theme. If you aren't already, you can sign up for the newsletter here, and if you are subscribed, be sure to look at the end of each email where we share our resource collection! Try it out for yourself and see some of our past collections by searching #MusicCrewWinter or #MusicCrewAssessment.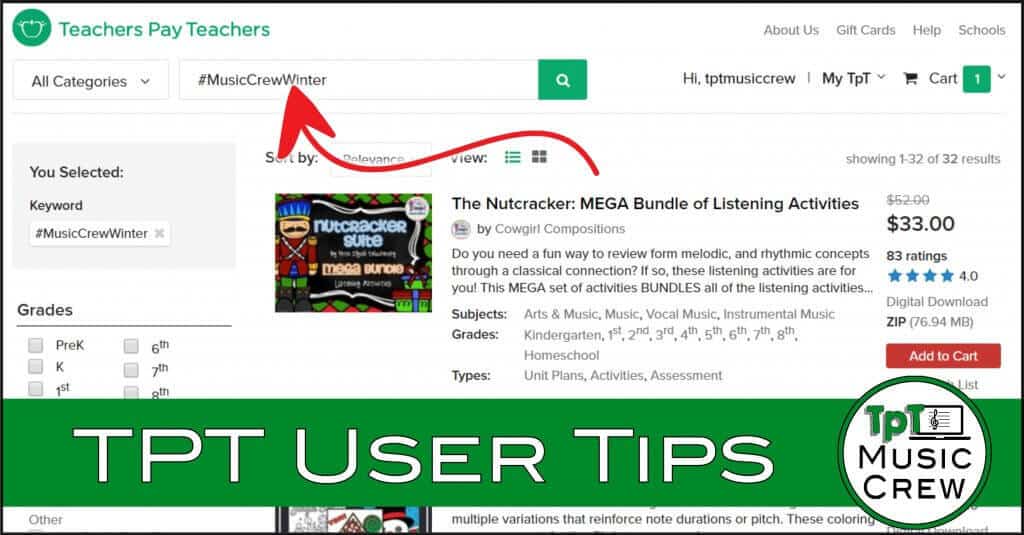 Searching the entire website can often be overwhelming, especially as a music teacher. Often searching for music resources with keywords will turn up products created by and designed for general homeroom teachers that would be inappropriate for the music classroom! One of the best ways around this is to search within specific stores. Did you know that each store has its own search bar? You can also look at the custom categories on the side of each store page to find what you're looking for.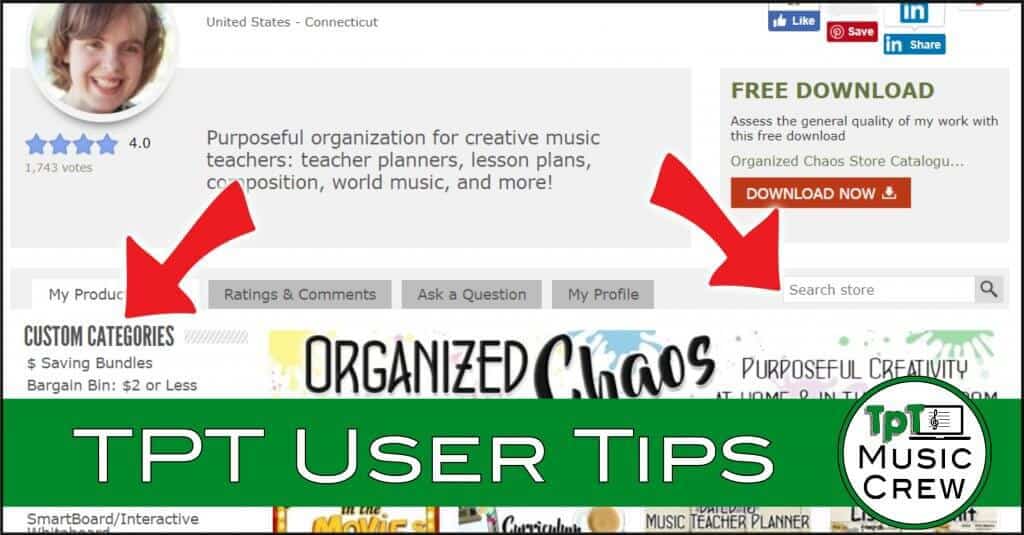 But you need to know which stores to look at in order to search through those stores! This is one of the main reasons we formed the Music Crew in the first place: to help teachers find quality music teacher stores they can trust.
Finding the Best Sellers for You
One of the best ways to get the most out of TPT is to take the time to get to know music stores. While of course we think we have the best teachers around right here in the Crew, we know we're a little biased 😉 Here are some ways to get to know music stores to find the ones that best fit your classroom, needs, and teaching style:
Find new, quality music stores on our "Meet the Crew" page. You'll find links to each store, as well as links to each seller's blogs, websites, and social media accounts. Or when you come across a resource on social media, through TPT search, or anywhere else, go visit that seller's store page. You'll be able to get a sense of that teacher's style and specializations by looking at their store page.
Download the free resources offered in each store. You can find them by scrolling down to where it says "price" on the left side menu, and clicking on "free". These free resources are designed to give you a sense of what that teacher offers in their store, and you'll be able to actually try out their resources to see if they're a good match for you.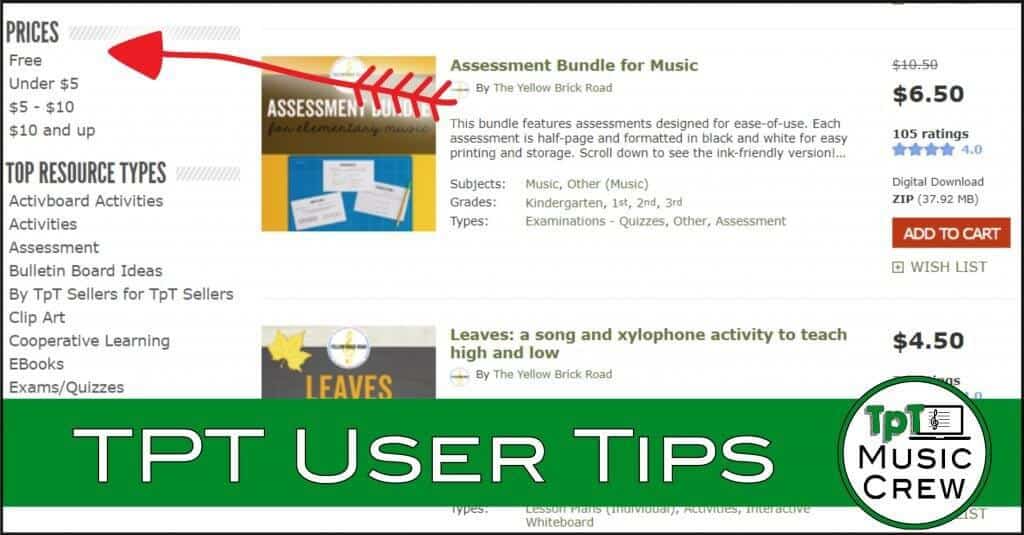 Getting the Best Deals
We've already talked about how to find tons of FREE resources on TeachersPayTeachers, but there are plenty of ways to make sure you are getting the best "bang for your buck" on paid resources as well. The best way to make sure you're hearing about sales and offers is to follow stores on social media. You can follow The Music Crew on Facebook and Instagram and sign up for our newsletter to get updates on sales, and you can find links to individual stores' social media accounts on the "Meet the Crew" page. This isn't some kind of gimmick- the last thing we want to do is be a nuisance and clog up your feed or inbox with worthless ads. We are teachers too and we know we don't have time or energy for that! We truly want to make sure the teachers who are a good fit for what we offer don't miss out when we have information about special offers or new resources.
Insider tip: most of us know that social media outlets like Facebook, Instagram, and Pinterest are constantly changing their minds about how they decide which content you see when you log in. If there's someone you connect with and want to hear from, be sure that you're actually seeing what they're sharing! That might mean asking to get notifications, making sure you're "liking" posts when they come up in your feed, or going directly to their pages every one in a while.
Every so often, TeachersPayTeachers will have site-wide sales. When that happens, make sure you find out and use the discount code at checkout! Most of the time individual stores will have their resources on sale already, but you can get an additional percentage off by putting in the discount code before you check out. These are usually the best times to get the best prices, so be on the lookout for those site-wide sales!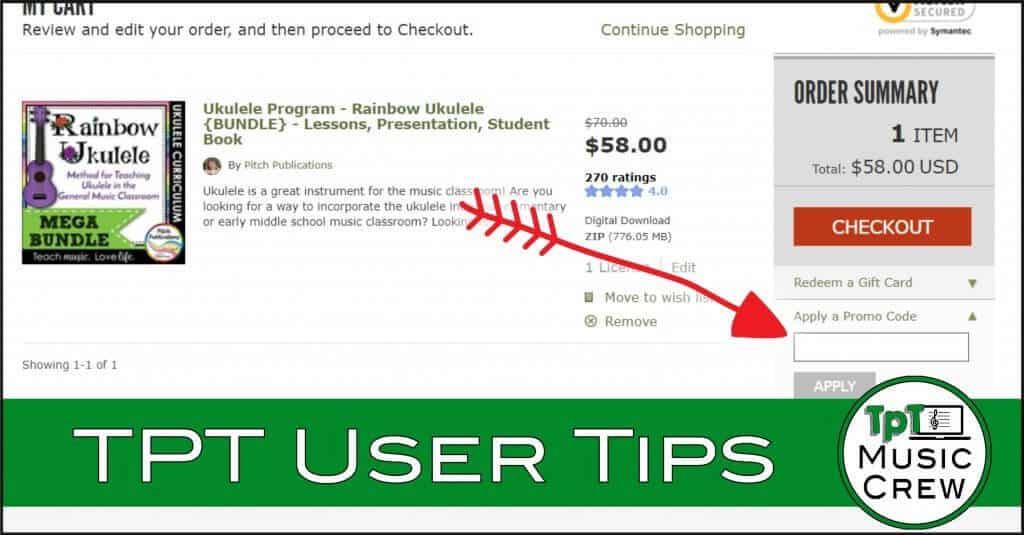 Another great way to get the best deal on resources is to leave feedback- you'll earn credits towards future purchases just by leaving a comment and rating. Just make sure your feedback is actually beneficial for sellers and other buyers:
Giving Helpful Feedback
Leaving feedback and ratings on resources you've used is a great way to help other teachers determine if the product is a good fit for them and help stores make improvements to the resource to better suit your needs (plus the credits you earn by doing so are a nice bonus!). Here are a few ways to make sure your feedback is useful for everyone involved: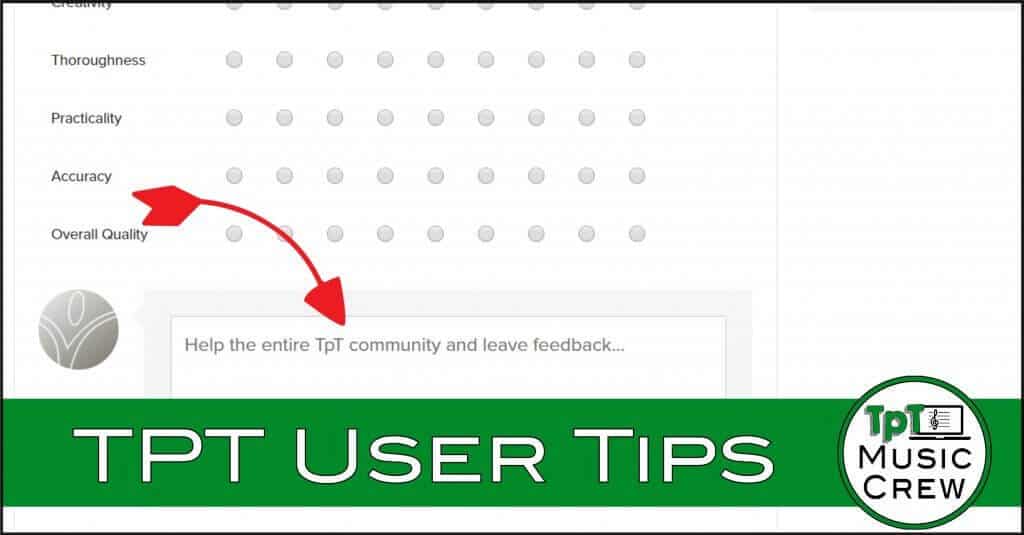 Take the time to look through the resource before leaving feedback. We know we're all very busy, but assuming something is missing and leaving negative feedback without taking the time to look through the full download is irresponsible and spreads false information for other teachers (and does nothing to help get you what you were looking for in the first place!).
If you look through the resource, use it yourself, and love the resource, do leave feedback! There are so many reasons to do this:

 sellers know that what they've created works for other teachers, helping them know what works in other classrooms and encouraging them to continue making valuable content,
other teachers get an outside perspective on something that works, making them feel more confident in their purchase, and
let's not forget about those credits you get for future purchases!

If you find something that doesn't quite work for you, or if you have suggestions or questions about how to use the resource, reach out to the seller with your questions and comments before leaving a negative rating. You can send them a message on social media, email them, or leave a question/ comment in the "Product Q&A" tab on individual products, or the "Ask a Question" tab in individual stores. This will give the seller the opportunity to either help you understand the resource better by answering your question and/or make changes or additions to the resource itself. We're not saying you should never leave negative feedback, but reaching out to the seller before doing so is so much more productive:

you get what you want and need for your classroom,
other teachers with similar styles and needs will benefit from the improvements to the product, and
the seller will learn more about what other teachers in other situations need and find useful, so they can apply it to their other resources as well!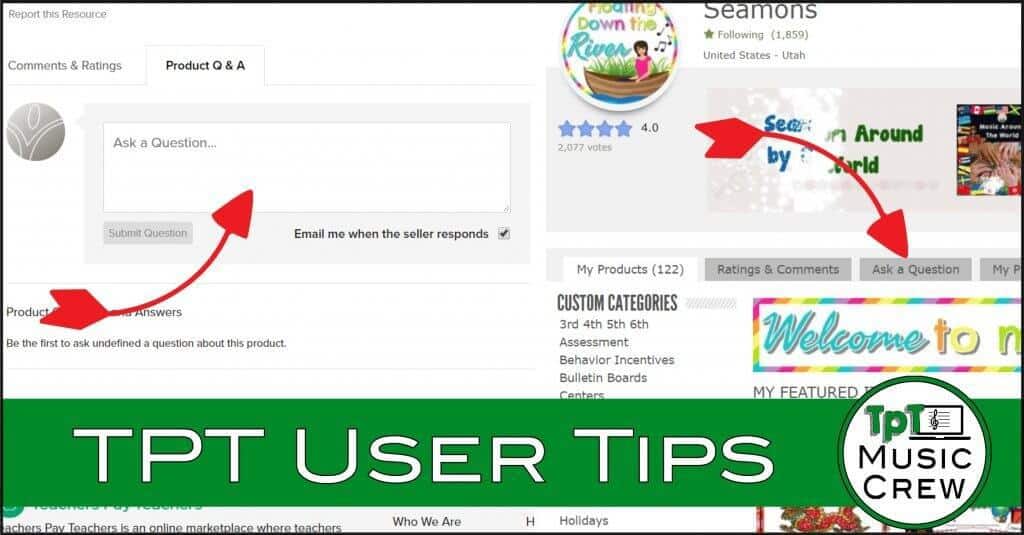 4. If you are having trouble with a technical aspect (can't get links to work, can't open the file, can't print properly etc) of a resource, you can try reaching out to the seller, but you may get your answer faster by contacting TPT's help desk here or scrolling to the bottom of the TeachersPayTeachers website to find the "Support" links at the bottom of the page. They have a tech support team that has more specific knowledge in all the different computer systems and software programs out there, and they are able to address any issues that may be happening with the website itself.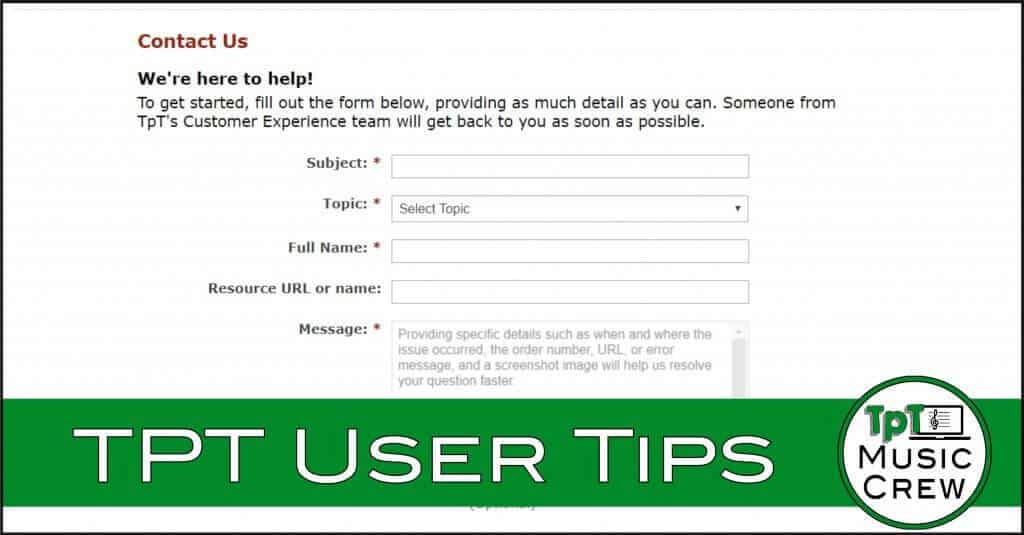 Getting the Most from Your Purchases
One of the BEST features of TeachersPayTeachers is that once you buy something, you have free access to any updates teachers make to the resource for life! And teachers being teachers, you'll find that products are being updated pretty frequently- we're always tweaking and improving! You can find out which products have been updated since your last download, and get those free updates, by going to "My Purchases" and sorting by "Recently Updated". You'll see a note in red that indicates that it is "Newly Updated", with a red button above to "Download Now" (and if you want to know if you need the latest update or not, click on "description of update").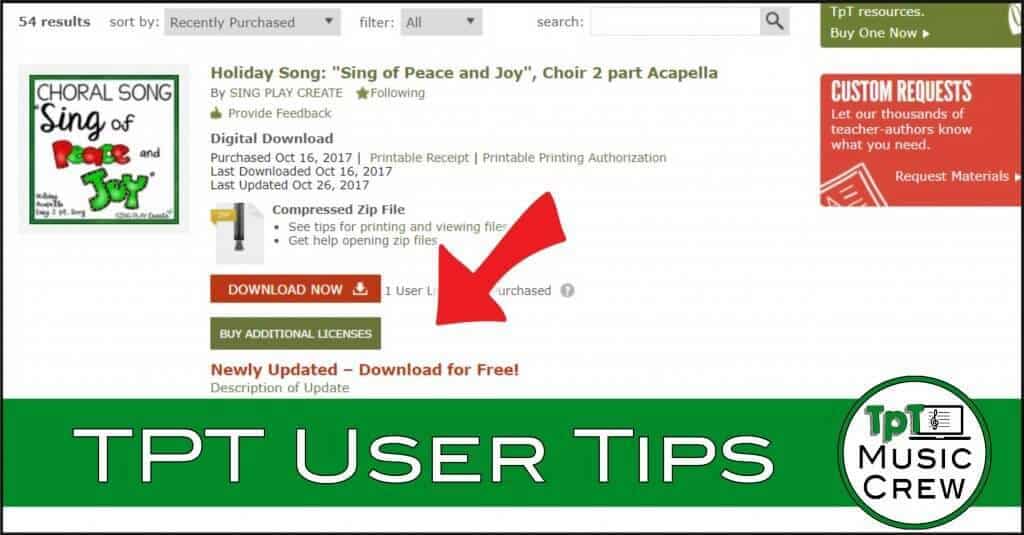 You can also legally and ethically share resources you love with your colleagues by purchasing additional licenses at a discounted price- it's the green button right under the red download button on the same "My Purchases" page.
Those are some of our favorite tips for getting the most out of TeachersPayTeachers. Now let's turn it over to you: what are your favorite TPT tips? Leave your ideas in the comments!

[et_social_follow icon_style="slide" icon_shape="rectangle" icons_location="top" col_number="4" outer_color="dark"]