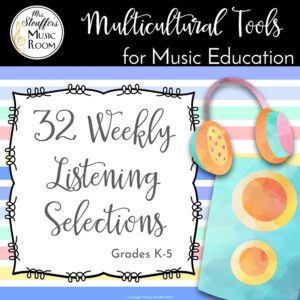 If you are turning to listening lessons with your students this is a must have!
This spreadsheet has 32 weeks of selected musicians, composers and groups for Kindergarten – 5th grade. (192 musicians/composers total).
Includes name, the category they were selected for (although they may be long to more than one), country they were born in, dates of birth and if applicable, death, a YouTube listening link as well as a matching link for Video.link.
This resource was made with inclusivity in mind. The idea is that students hear more than traditional selections, so there are two selections of the following categories for each grade: Latin America, African American, Women, Asia, Film Composer, American Composer, Jazz/Blues, YouTube, European Classical, Bluegrass/Folk, Band Music, Choral Music, LGTBQ, and Broadway.
Each grade also has two selections that vary including Rock, Spirituals, Australian Composer, Piano music, Motown, Big Band, African Composer, Hip Hop, Pop culture, Gospel, American Crooner, Opera, Men's Choir, Aboriginal Music.