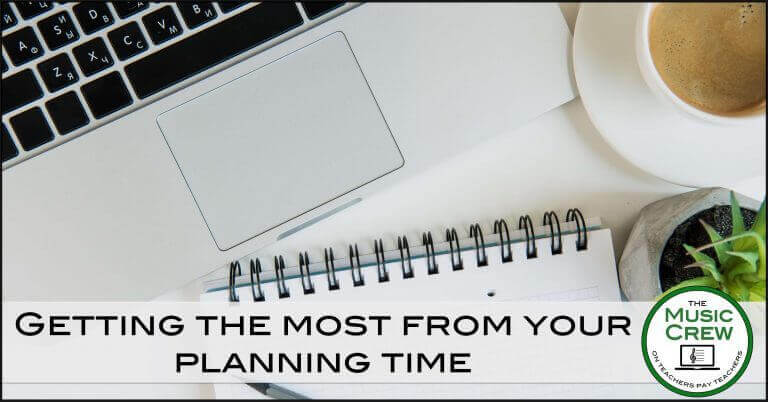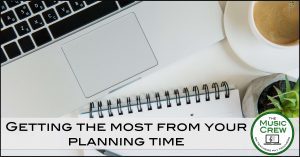 Do you ever feel overwhelmed with everything that needs to be done during your prep time?  You sit down to work but feel pulled in a million directions?  Never feel like you have enough time to get your work done?  Whether you get daily prep time or small spurts of time throughout the week, let's talk about how you can make your time work for you!
Plan your work, Work your plan
For me, lesson planning is a craft and requires large chunks of time to dig deep into sequence, repertoire, and materials.  I receive 40 minutes of planning time each day.  As great as that is, it's never enough time for me to really get the work done!  I know that the majority of my lesson planning will happen on the weekends, but I still want to make sure I get the most out of my prep each day.  Take a moment to assess the time you have in your day for planning and decide how best to use it.  If you don't have enough time for planning, then use your time for other teacher tasks like communicating with parents, responding to e-mails, searching for repertoire, etc.
Make Lists
Each week, I make a "To Do" list of the things that need to be accomplished for my job.  Some of those things are urgent, like a note that needs to go home to my choir, while others are simple tasks.  Using a highlighter, I prioritize my list.  What are the most urgent things that have to be done?  What are my 5-minute tasks?  When my planning time comes, I go right to that list and work through the urgent items first and do the smaller tasks later.  It helps me to identify the important things that need to be accomplished each and every day.  It's also very satisfying to cross an item off of my list!  And if I have day when my planning time gets interrupted?  I still can get a 5-minute task done and feel like I accomplished something.
Shut Your Door
Seriously.  Shut your door.  Turn off the lights if you must.  Make your time YOUR time.  We all have that one one person who comes in to chat and 30 minutes later, your prep is over!  You have permission to say, "I really need to use time to get work done today."  If you can't say that, then simply shut the door and get to work.
Digitize Your Lesson Plans
I'm a bit of an odd ball.  I love technology, but I still draft out my plans in writing.  With that said, I have learned the importance of "digitizing" my lesson plans.  It gives me an opportunity to refer back to them each year.  I keep what worked and tweak or change what did not.  There is nothing wrong with building upon the successful things you've done in the past.  Work smarter, not harder.
Find "That" Mom
I rarely have regular copying to be done, but when I do have copying projects, they are significant.  Find "that" mom in your building.  You know who I'm talking about – the PTA volunteer or the room mom.  Ask her to drop by once a week to see if you have any copying or laminating to be done.  I have a folder in my room so that even if I'm teaching or out of the room, I can leave things in the folder for her to copy for me.  Knowing I have someone to help me with copying frees my time to do other important things that impact my teaching.
Still struggling with lesson planning? 
Search the TpT Music Crew Blog!  We have LOTS of great ideas for teaching for you!  Make sure to check out the Music Crew Collaborative in Facebook too!  It's a great community of music educators who love to discuss all things music and teaching!