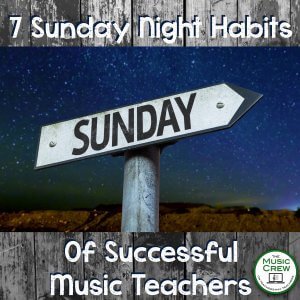 Right now, I'm working on my Masters.  It eats up SO much of my free time, but I'm fighting that by trying to take back some of my time.  I've been looking for ways to be more productive, and be more organized going into the week.  I thought this would be a helpful list for everyone, so /I'm sharing it with you!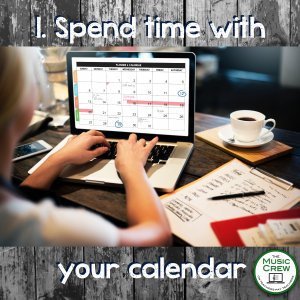 Write in your goals for the week, make a to-do list, and go over all your appointments outside of your normal weekly schedule.  I put all of my out of normal appointments in my Google calendar, but I always feel like I need paper so I can cross things off.  I use a Happy Planner that I got at Michaels, and it's the first time I've had a calendar since college that works well for me. I have a spot for my daily schedule/school events, one for things I want to work on for TpT, and one for my grad classes.  And then the stickers!  I really look forward to going through it every week, and making my upcoming week look cute.  I add in schedule stickers, stickers to help me keep track of water intake, and sometimes, just a cute sticker for fun.  You can also get some amazing ideas for planners from my friend Elizabeth at Organized Chaos.  Check her blog out here.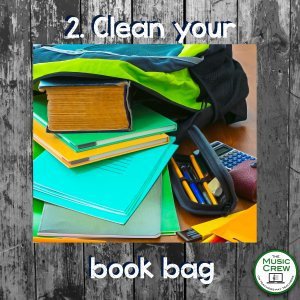 I don't know about you, but when I clean out my purse, I end up with 4 pens, 3 lip balms, and multiple charging cords (although I finally found a way to organize my cords that might help you out.  You can hear about them in my Thursday Three post here).  Just like my desk at school, if I don't clean it off on Friday afternoon, I end up with SUCH a mess the next week. I started doing this as part of my quality time with my calendar.  If I take that half hour and make my things for the week easily accessible, it takes so much less time during the week.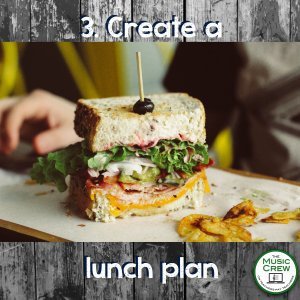 I'm SO guilty of this.  I constantly forgo packing lunch and end up with packets of Lipton soup, little things of rice, a granola bar, take out from the local deli, and cups of Easy Mac, and worse yet, the delicious, super unhealthy stuff on the kitchen counter at school.  But if I actually make sandwiches, put food in small containers, and plan it out, I eat SO much more healthily than I would have otherwise!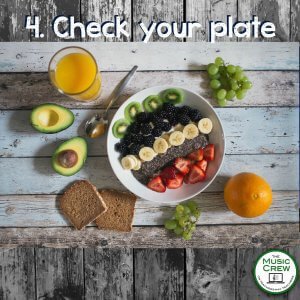 This is the best time to skip some of the less than healthy snacks at the football game, the extra glass of adult juice or spending the entire Sunday plastered to your couch in an attempt to catch up on that sleep you are missing (been there too!). Eat a good dinner with lots of protein, and make sure you have enough water.  Some of these things are so hard to keep track of during the busier weeks, but on Sunday you can start the week out right.  Even if cooking seems stressful, eggs and bacon for dinner are never a bad thing! Or you can try making a smoothie bowl, they are my new favorite, and there are lots of recipes on Pinterest. As much as I love that extra cup of coffee and the Reese's Cup, I feel way better when I have a healthy meal with a lot of protein.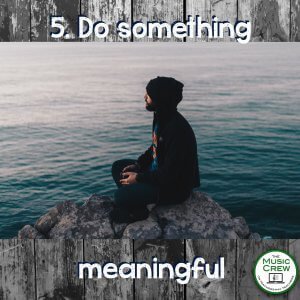 Make the most of the last of your weekend.  Take a walk, have some hot cocoa, go pick apples, do some yoga, or find a community music ensemble to participate in. Check out a blog post I wrote here about participating in music for you.   Definitely try to stop doing and live presently for a few hours.  I know it's something lots of teachers struggle with, myself included, so let's make a pact to take back Sunday nights!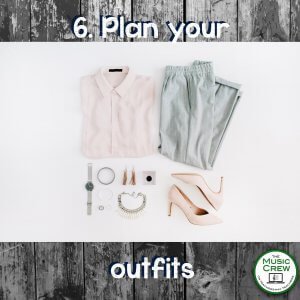 By the time Friday rolls around, I can't figure out what to wear, or what I really want is at the bottom of my hamper.  On my busiest weeks, I jot down what I want to wear on certain days, or if I have a performance.  It definitely helps me figure it out so I don't end up staring at my closet cluelessly.  I don't need to set out clothes, but I definitely need to plan it in my mind.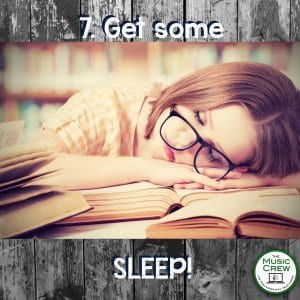 None of us are good to the people around us when we're dead on our feet. Get to bed, and get some shut eye.  But some of the better tips I have for you for sleep aren't just to GET it.  Two of the things you should try for your best rest:
– An eye mask.  My neighbors have a really bright light in their yard, and even with the shades down, I can't handle the light.  I have multiple sleep masks, and use one every night.  Not only does it block the light, but I think it helps keep the bags at bay.  They are the best invention!
– Try the sleepyti.me calendar.  I love this site because it helps you figure out the best time to go to bed by when you need to wake up, OR  what time to set your alarm for based on when you fall asleep.  It's great for those nights you need to fall asleep.
I hope these can help you be your best!!
Melissa
Mrs. Stouffer's Music Room
SaveSaveSaveSave