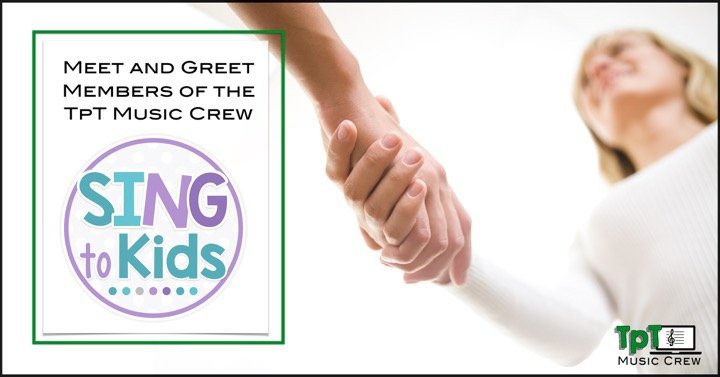 What I Have Taught:
Early childhood music (birth-5 years), K-5 elementary music, elementary choir, and private flute lessons
Where I am From and Where I Have Taught:
I'm originally from a small town near the border of Michigan and Ohio.  I began my career in Houston, TX at Spring Branch ISD.  I taught several years in Philadelphia, PA while finishing my master's degree.  I've spent the last 17 years teaching for Farmington Public Schools in Farmington, MI.
Favorite Teaching Memory:
My favorite teaching memory happened at my front door.  Several years ago, I had the great fortune to purchase a home in the neighborhood where I first began teaching in Farmington.  It was Halloween and I had over a hundred trick-or-treaters come to my door.  As the crowds subsided, I heard one final ring of my doorbell.  I went to the door and saw 7-8 high school students at my door.  As they all said "trick-or-treat," I realized they were all former students!  They were just as surprised to see their former elementary music teacher at the door.  One of them said quickly, "Oh no!  We have to better than trick-or-treat!"  They quickly turned their back to me, then turned around again and sang "trick-or-treat" in perfect harmony!
As I reflected on that moment later that evening, I realized that my job as an elementary music teacher is to plant a seed for a love of music.  Sometimes I am blessed to see that seed begin to sprout, but often, I don't get to see it bloom.  As an elementary teacher, we see every child over the course of 5-6 years.  The work can feel overwhelming at times, but we set the foundation for a lifetime love of music.
One of those kids at my door wrote me a letter last year.  She recalled specific experiences she remembered in my music class.  She told me how she played in orchestra all through high school.  She shared that although she wasn't a music major in college, she played in her campus orchestra.  Music will be part of her life forever because I planted a seed…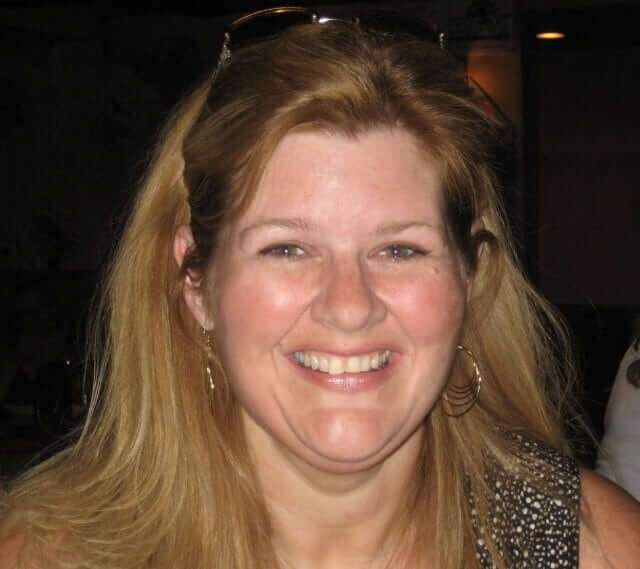 Quick, Fun Facts About Me:
I LOVE pugs! They are such funny little creatures with quirky personalities.  We have two pugs, a black pug named Bette and a fawn pug named Buster!  (And yes, they both snore loudly!)
Why I Love TpT:
I love TpT because it gives me a creative outlet.  I've always loved creating lessons and resources for my classroom.  Now I have a way to share my love of teaching with others!
Music Teacher Quick Tip:
I had a profound moment early on in my career.  I had a little boy in my class that was a bit of a handful.  One day in music class, he partnered with one of my special learners.  He was tender and kind and had so much patience for that child.  It was touching to watch his kindness and empathy in action.  I decided to call his mom to share this beautiful moment with her.  As the phone rang and his mom answered, I introduced myself as her son's music teacher.  Before I had finished saying my name, I heard a huge sigh from the other end of the phone and the simple question, "what did he do now?"  I told her I was calling to share something wonderful her child had done, and as  I spoke, I could hear her weep.  She thanked me for calling her and shared that no one had ever called her to tell her something nice about her child.  He was a 4th grader.  It broke my heart!  From that moment on, I made a point to write 5-6 quick notes a week to tell parents the wonderful things their child had done in music class.  I still do it to this day.  As my grandma always says, "you can catch more flies with honey than vinegar!"  A kind word goes a long way to building trust and relationships with parents!
Two products you may not have seen in my store:
I may be in the minority, but I love to teach recorder!  A few years ago, I realized that I had a lot of kids on both ends of the learning spectrum – high achievers and struggling learners.  I developed The Differentiated Recorder to make sure every child in my room could learn!  I also love to teach ukulele!  As a Music Learning Theory practitioner, my sequence sometimes feels a bit different than others.  Sing & Strum was developed to teach children ukulele using the folk songs they learn and love in music class.  Each level is built on a sequencing of tonic, dominant, and subdominant chords (I-IV-V).  With IWB charts and student books included, Sing & Strum is perfect for every elementary classroom!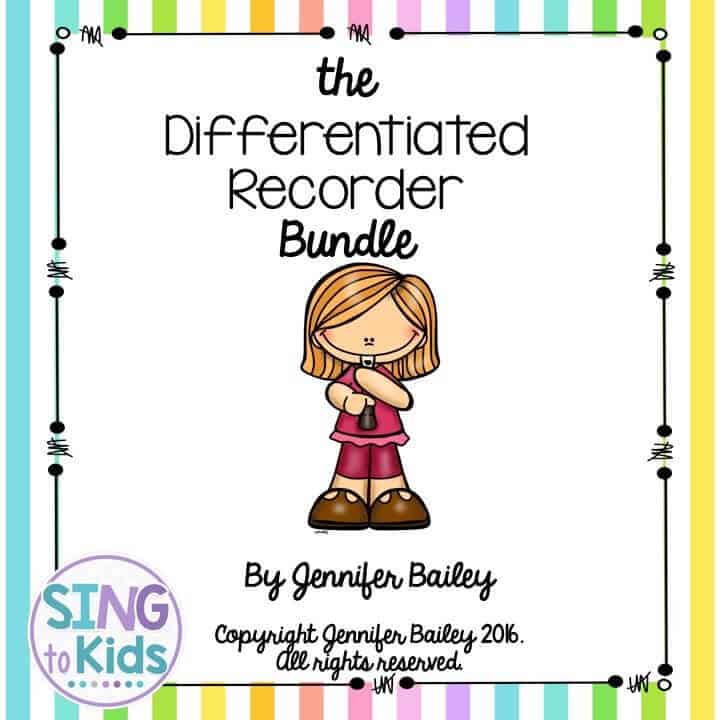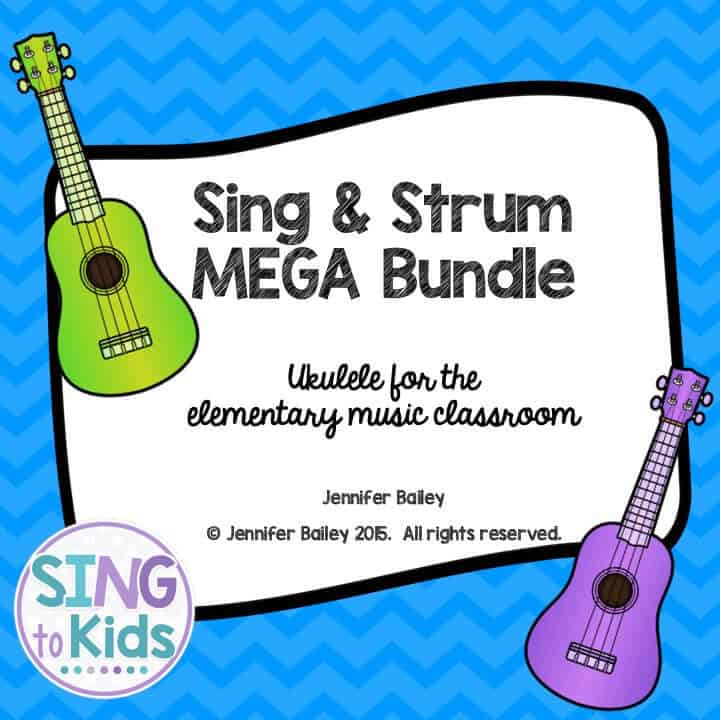 Sing & Strum comes with 5 levels – an introductory level, one-chord songs, two-chord songs, three-song chords, and songs in other tonalities.  Each level has IWB charts and student books!
Thanks so much for taking the time to read about me!  I love being a part of the crew and getting to meet and inspire music teachers around the world!
If you would like to know more about me, please visit my blog!
Musically yours,
Jennifer Bailey, SingToKids

[et_social_follow icon_style="slide" icon_shape="rectangle" icons_location="top" col_number="4" outer_color="dark"]