At the end of the year, it is inevitable that our students' behavior gets a little crazier. In my district, the kids are doing tons of state testing, spending hours staring at computer screens and are very stressed out. At least in my state, we have had a long winter with cold temperatures and less sunshine. Once the weather warms up and the sun starts to shine more, it signals the end of the school year, especially now that spring break is done. Students have gotten to know each other and their teachers well, so some of them start pushing buttons of both other students, as well as teachers.
Although end-of-the-year behavior can be extra challenging, there are many steps you can take to keep your sanity and to continue the learning to the end of the year. You can practice procedures to remind them of expected behavior. You can mix things up a bit. You can do projects that help their learning culminate in a fun final project. You can also end with some fun review activities.
PRACTICE PROCEDURES
When you have an extra difficult class, practicing procedures can be a good way to remind them of your expectations. At the end of the year, every class may need to practice as they get lax in their rule following or too comfortable with their classmates and teacher. If classes begin running into the classroom, have them line up again and practice coming in quietly. If it is one student, have him or her work on coming in again. If you give an attention signal and it gets ignored. Practice again or try a new attention signal to mix it up. I have written a blog post on some possible attention signals. This might give you some new ideas. https://floatingdowntheriver.com/ideas-for-getting-your-students/
MIX IT UP
Do things differently than you have before to make it more interesting. We all like something new. One thing I have done at the end of the year is to bring out my flexible seating, such as yoga balls. I choose students who are following directions or participating fully and they get to sit on a yoga ball for 5 minutes. It is amazing how motivating it is. Sally, from Sally's Sea of Songs made a poster for her kids to teach them how to sit on a Hokki stool.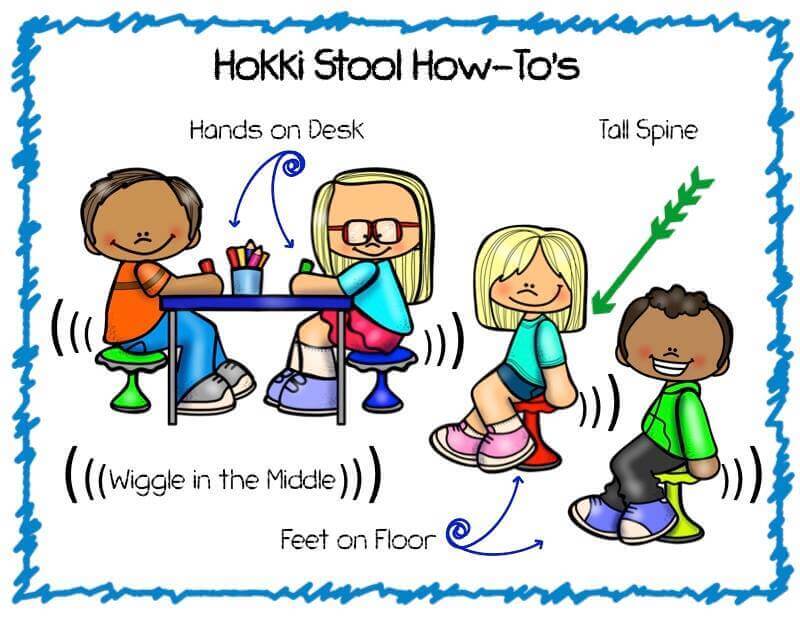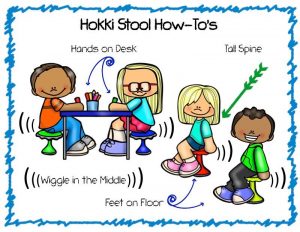 Aileen Miracle from Mrs Miracle's Music Room has written 3 blog posts on some flexible seating ideas. Here is the first one. https://www.mrsmiraclesmusicroom.com/2017/07/flexible-seating-in-music-classroom-part-three.html
HAVE YOUR LEARNING CULMINATE IN A FINAL PROJECT
I love having my students end with some super fun final projects. In first grade, we work on a beat book all year and we end by reviewing it and coloring it before they take it home. It is very special and they cherish this book and all of the work they have done. In 2nd grade, we end the year with a street scene where we have practiced songs, divided into small groups, found props and do a full street scene (think of the movie Oliver or the opening of Beauty and the Beast). We invite parent in to watch and show them how we can decipher rhythm and solfa, as well as our class Rocky Mountain book we've made as a literacy project. We bring in a treat (similar to Hot Cross Buns, one of our songs we sing in our street scene). It is one of our first introductions to harmony. Be creative. Come up with a project that showcases things you have worked on all year that will get the kids excited! Jennifer Foxx of Music Educator Resources has a great project on her semester long comic strip project. https://musiceducatorresources.com/2019/04/24/comic-strip-music-composition/?fbclid=h 
The Music Crew on TPT had a blog post on fun end of the year projects. https://themusiccrew.com/best-end-of-the-year-projects-for-music-class/
END WITH SOME REALLY FUN REVIEW ACTIVITIES
I aim to get major concepts learned by May 1st. I know that kids are tired and more challenging once May hits and we only have a few weeks left (I know some of you will go way into June, so you will need to adjust that date). I use the last few music times to end with some super fun activities, such as using a parachute, bringing in my corn hole to review concepts, playing other fun review games, or doing some fun centers. The Music Crew on TPT has a list of some great end of the year packs on TPT. https://www.teacherspayteachers.com/Browse/Search:%23musiccrewendofyear 
Other Fun Ideas From Music Teachers Around The World
I asked this question among other music teachers on facebook and got some more ideas. One teacher says she saves snake songs, the favorite drum songs, centers for the end of the year. Some other ideas are to use more movement activities or folk dance, do special music days that kids have worked toward, a song writing activity on the theme "summer is coming", pairing up with younger classes, and showing some musicals.
These are just a few ideas to help you get to the end of the year. I hope this gets your creative juices going and keeps you sane as we approach the end of the year. Feel free to comment on your favorite methods for managing challenging end of the year behaviors.
Musically Yours, Linda