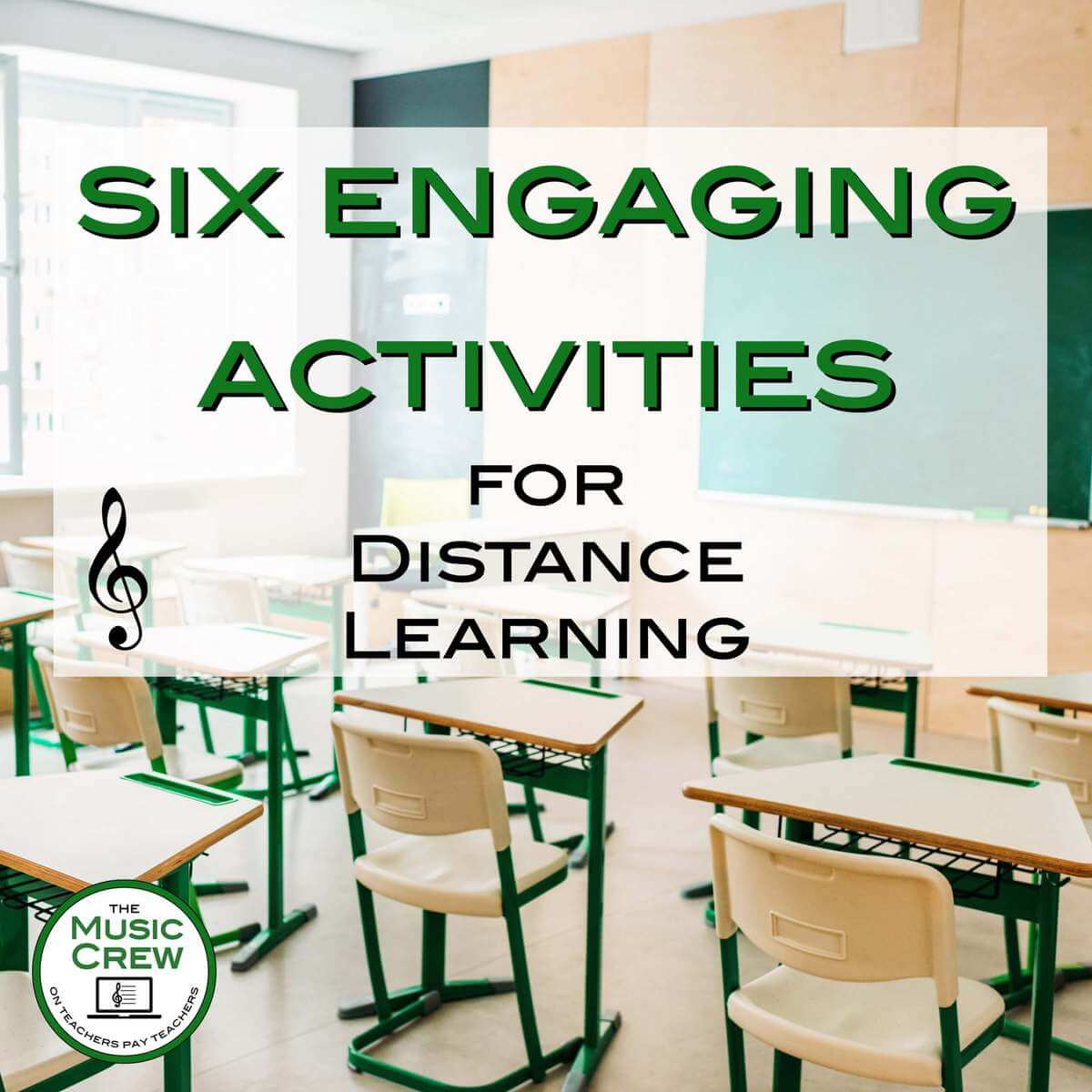 One of the biggest challenges with distance learning is engagement. When you don't have instruments, singing games, social interaction, face to face contact, etc…. (sorry to be a downer for a moment!), it can be a massive challenge to keep kids engaged. Here are my six favorite ways to keep kids engaged.
1. Scavenger Hunt
Not what you think. There are lots of ways we can make kids look at stuff in their own homes differently. Here are my favorites:
– Find and sort items that are loud/soft, fast/slow, high/low.
– Find a way to make music on a household item – pots and pans anyone?
– Find a way to create a homemade instrument, like a TP roll with beads or gravel from outside.
– Find a composer from your hometown (state) and listen to some of their music.
– Find a composer who is from your heritage and listen to some of their music.
These last few lead me to the next one…
2. Music History
This is a GREAT time to pull out some of the people that we don't get to touch on normally. Why not revamp your music history lessons and include people who don't get touched on as much. Bring out the more modern composers, the women, and a more diverse selection. It doesn't have to just be composers either. Highlight great musicians from Motown, NOLA, Nashville, the Delta, and how we got from the rockstars of classical music to the rockstars of today.
Highlight some of the awesome musical cultures from around the world that will really get kids engaged: throat singing, African drumming, gamelan music from Indonesia, kolos from Eastern Europe, Doumbeks and from the Middle East, didgeridoos, the ridiculously complex rhythms from India that make my head spin, and I could go on. Or have them look up a music from their culture instead of one of these.
Either way, this is a great time to give the kids a chance to connect to a whole world of music.
3. Composing
There are some great websites out there to give your kids a chance to be creative.
Mario Paint – a fun website with vintage video game type sounds and that can get placed on a grand staff.
Chrome Music Lab – various tools to play with that create music.
Groove Pizza – create a groove with different sounds on the beat (in a pizza shape), and you can even give it a swing.
Incredibox – A bunch of (shirtless) dudes that add sounds as you put a shirt on them. GREAT tool, but make sure that the shirtless part would be ok at your school. (You can say they are in swim trunks!)
Isle of Tune – The only way I know how to explain this is that it is The Sims of composing.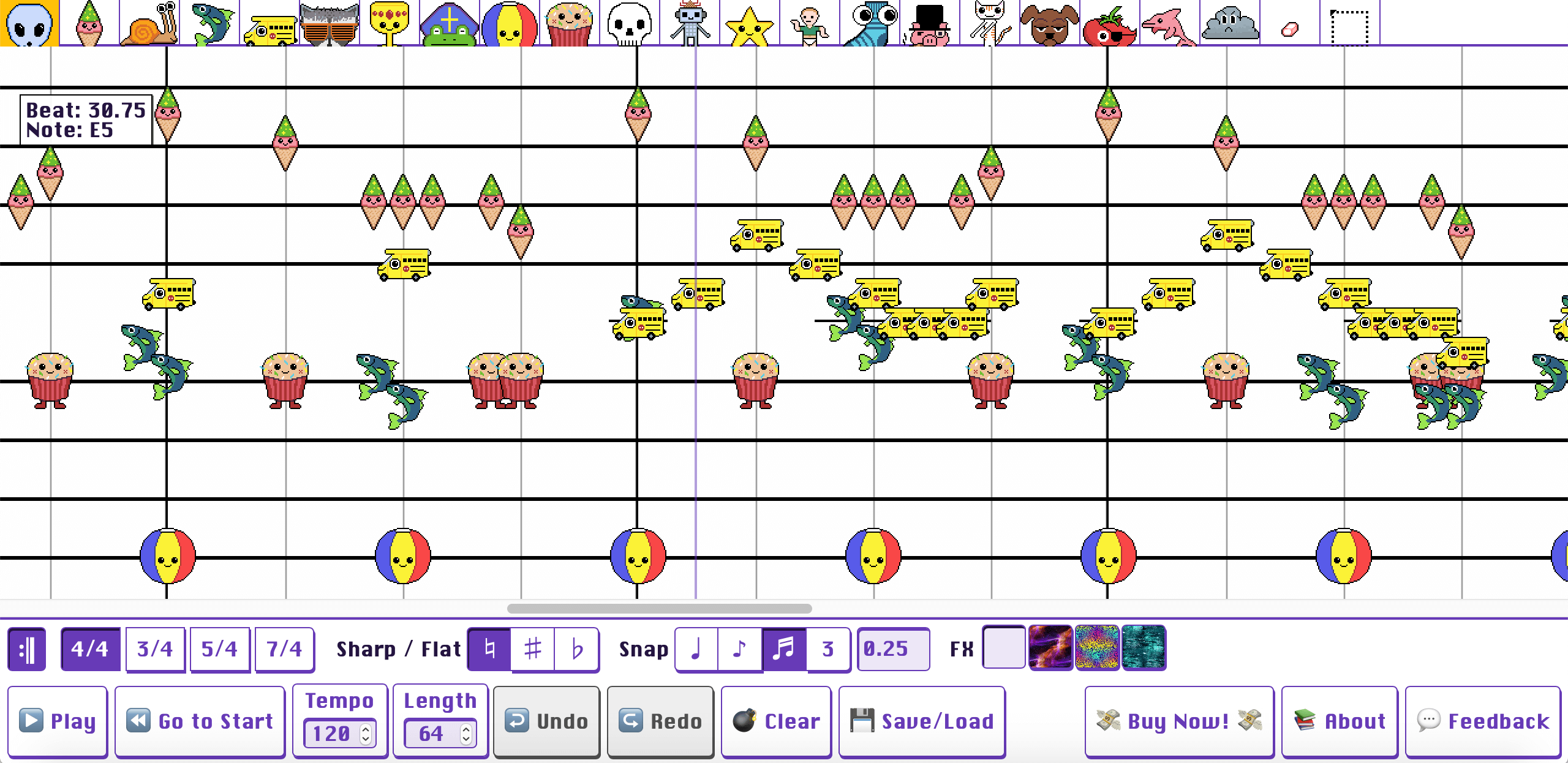 Check out the retro visuals on Mario Paint!
But it doesn't have to be digital!! Create a pattern, compose a body percussion activity, use something in your house to write out a rhythm pattern (spoons and forks instead of popsicle sticks anyone?). Write your own Vocal Exploration.  My kindergarteners did this in class in February and my kids had a BALL!  Some even wrote out VEs for their names with dotted lines. Some drew a little character to follow the path.
4. Interviews
Since people are 'stuck at home', use this time to let the kids get to know their parents music better. Craft an interview that they could use on a parent, grandparent, relative, neighbor and find out about the music that they listened to when they were younger, or what they did in school music. I have one you can use in this FREE download from my TpT Store. Not only will the kids learn something, but their interviewees will love a chance to talk about their past musical experiences!
5. Digital Music Classroom
This is all the rage on Facebook right now – create a digital music classroom in Google Slides, like your favorite online tools (like those composing ones above) and create links to each time so your kids have a virtual classroom 'choice board'. They are SUPER not hard to make. Start by making a new Google Slides presentation. Search the web for free images of what you need – a white board, piano, bookshelf, and even 'empty room' for the background. Click on each individual item to create a link to each item for a place you want it to go – a youtube video, a website, a folder in Google Drive, etc.
This is what mine looks like. I haven't done too much on the shelf yet but each grade will have a link to a Google Folder or Doc with things for them. Check out my YouTube tutorial by clicking here.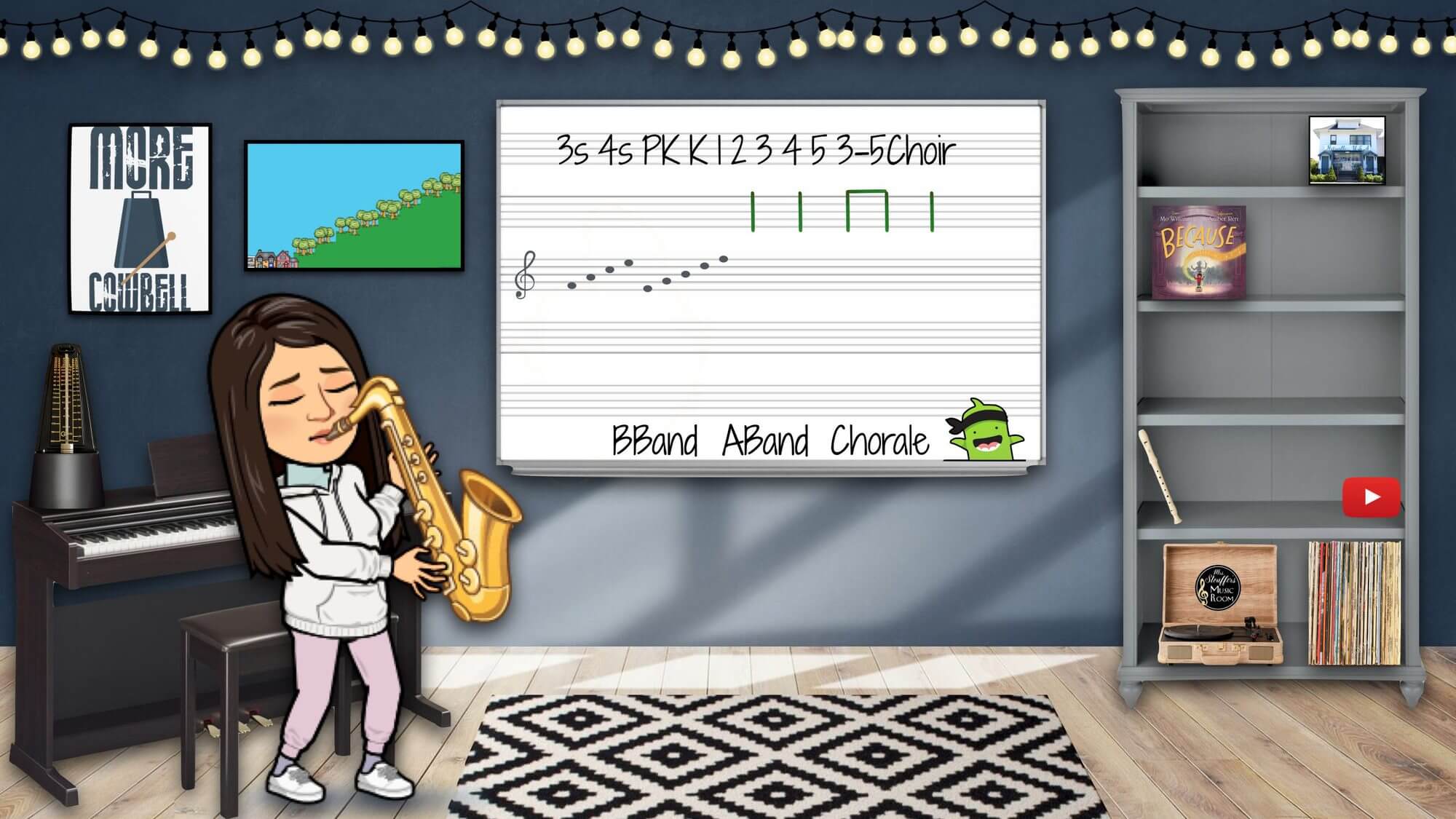 Bonus Tip!
Let the Crew help you out!! If you haven't read this post yet, go here, and see some of the best stuff the TpTMusicCrew has to help you navigate distance learning. Can't find something? Make sure you check the Crew Facebook Collaborative Group.  Ask a question here to reach all of us quickly. Answer the questions to get admitted faster.
Hope this helps you out!
Melissa Stouffer