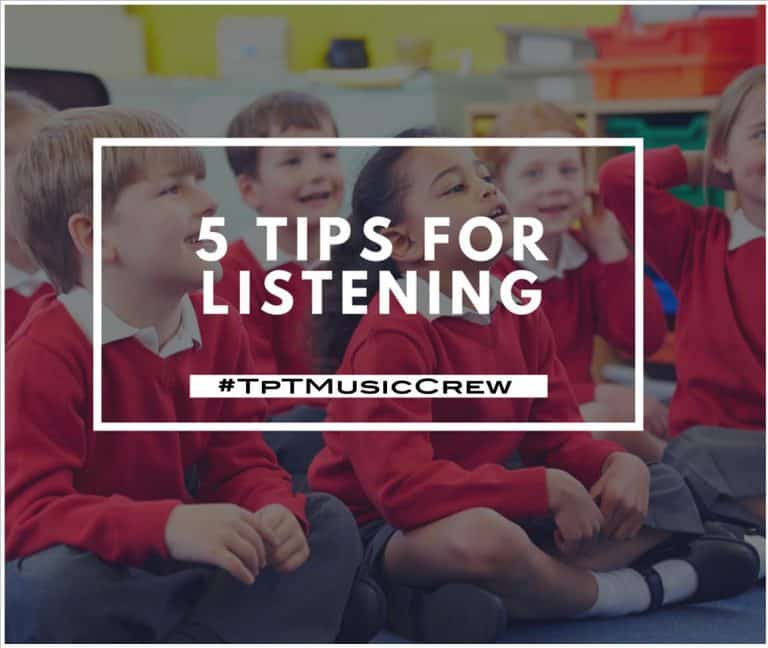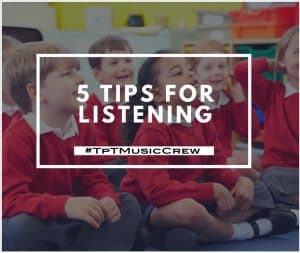 5 Tips to Listen Successfully
Listening is a necessary skill for life. It is one that must be taught, especially in Music. So many students are classified as visual learners but I believe our visually stimulating world and culture have conditioned many students to be visual learners. There are critical skills that our students need and that music can help teach. Listening is one of those skills. Here are five simple tips that will help elementary students learn to listen.
REPETITIVE WORDS:   Listen for a repetitive word in the song and assign an action to it. This is good to use especially when introducing a song.  This tip gives the students something for their ears to focus on.  Sound stories are also a fun way to teach children to listen for a specific word or phrase.
REPEATED PHRASES:  Have students identify repeated phrases (or melodies). Choose a repetitive rhythm from the song the students will be listening to. Echo-speak or echo-sing this rhythm, then play the song asking students to count the number of times they hear that rhythm.  OR Assign a movement to a section of music.  Two fun pieces to use here are the Superman theme song, or Star Wars, or Indiana Jones.
KEY WORDS:  If a song is wordy and doesn't have repeated phrases introduce it with motions or steady beat body exercises. This tip is best achieved by selecting a few key words from the song.  For example: A song that mentions parts of the body, is one where I will instruct the children to listen for words about the body and simply point to the specified body part.
MELODY ART: Draw the melody. Ask students to draw what they hear, or how the music makes them feel.  You can also ask them to draw the instrument they hear most in the song.  I played a classical piece in class last semester and one young man drew a sword fight. Then for the same song, another young man drew a baseball diamond.  He said the music sounded similar to something to he remembered hearing at baseball games when his dad took him.
PURE MELODY: Make sure that students hear the pure melody. Do this by singing a capella or putting the melody on a simple melodic instrument, use the accompaniment track for instrument activities and or steady beat activities.This allows the students to become familiar to the feel of the beat and tempo of the song.  I love to use accompaniment tracks for movement before I ever introduce a performance song.
Comment below and add your own favorite ways to teach children to engage their ears when listening to music. Listening can be active and fun. Most importantly though, it must be taught.
Keep singing! (or listening)
Darlene
Music Mom
SaveSaveSaveSaveSaveSaveSaveSaveSaveSaveSaveSave