Hi there! My name is Michelle(from The Musical Rose, formerly known as Music with Miss W) and I teach at a virtual school.
Usually the first reaction I get is something like you do what?!
I love my job. I think it's awesome, exciting, and challenging(seriously…I learn something new each day in the virtual world). Right now, I teach middle school and high school general music. I also start a virtual band and a virtual choir this year! My students are from alllllllll over the state of North Carolina.
Oh and I also get to teach from my home. It's been the best thing for me as an introvert! I have sooooo much more energy at the end of the day.
Since virtual schools are relatively new (my school is only 4 years old!), there are lots of misconceptions surrounding it…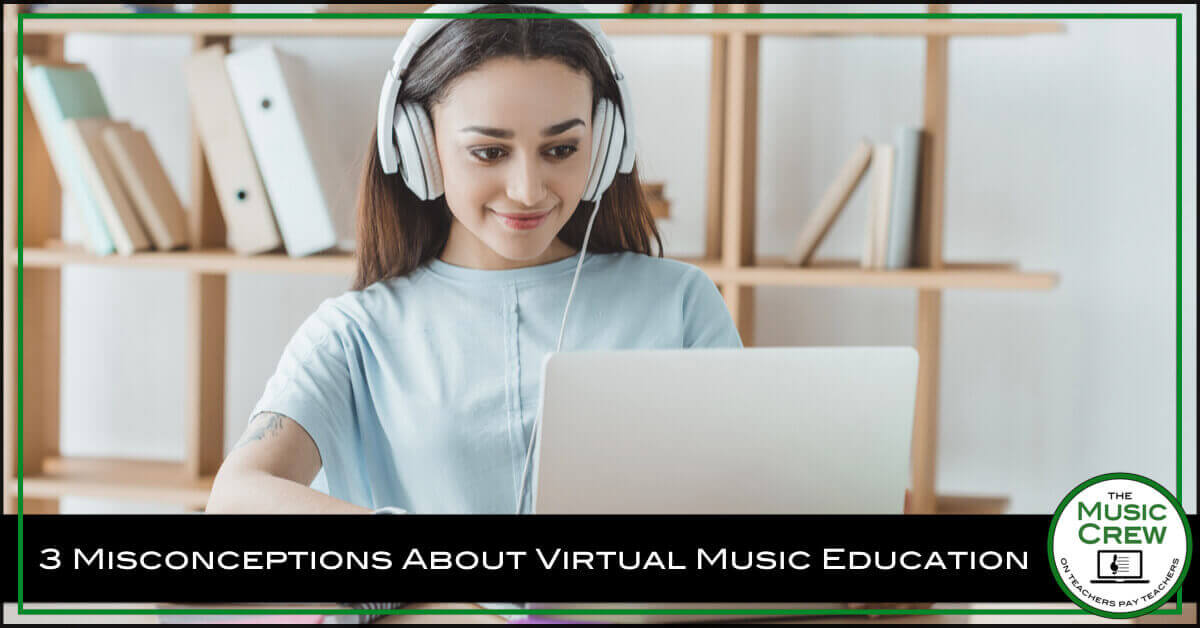 Misconception 1: Virtual teaching isn't "real teaching."
I'm not sure why but I hear this a lot both online and in real life. I think what people don't understand is that our school essentially functions just like a brick and mortar school. I teach music live each day – the only difference is my students show up to my virtual classroom instead of a physical classroom.
All teachers who teach at my school are certified teachers. We still have to do standardized testing (yes, we do it in person – students travel to a local testing site that is monitored by teachers from the school). We have virtual clubs, honor society, and talent shows. We even have prom and graduation in person! Check out this post for our virtual band premiering Pomp and Circumstance this year at graduation.
Misconception 2: Music can't be done in a virtual environment.
When I tell people I am a virtual music teacher, I get a lot of confused reactions. Then people think it must only be music history and music theory. My first year, this was largely true. But, I constantly had students and parents asking me about performance ensemble opportunities so I went on a mission to make it a reality. With the amount of technology available, I knew there had to be a way to make it work. Using Eric Whitacre's Virtual Choir as my inspiration, I started both a virtual band and a virtual choir this year. Music in the virtual environment is possible – all it takes is a little creativity!
My mission as a music educator is to ensure all students have access to a high quality music education and that includes virtual students!
Misconception 3: Virtual teaching is a part time job & completely flexible.
Virtual teaching is a full time job and because we function similarly in schedule to a brick and mortar school(see #1), we also have regular contracted school hours. It's not like tutoring that can be done at any hour or an online college class where you may be able to go at your own pace. A lot of people apply to my school thinking they will be able to work whenever they want and they'll have extra time to run errands, take care of a sick loved one, do laundry, work another day job, but there simply isn't time. It is a full time job just like any other teaching position.
The flexibility comes in with being able to work from wherever there's wifi, the extra time you gain from not having a commute, and your lunch break (I may have taken a lunch nap or two…). I promise, no matter how long you've been teaching, your first year teaching online will be like your first year of teaching all over again and you'll have to spend some extra hours on school the first few months while you learn to navigate the virtual world.
Interested in virtual teaching? Start by searching for virtual schools in your state! If you have questions, comment below or reach out to me via Instagram DM!