What I Have Taught:
I have been teaching music privately and in high schools and colleges (grade 7 – 12) for many years. Yep, deliberately not being specific here!
My main areas of teaching in the class room are general music, keyboard, guitar and vocals/choir. Currently I am teaching composition and music history to senior tertiary students, the Music Industry course (grade 11-12), two general music classes (grade 10) and a vocal unit (grade 10). I also started and still direct an SATB A Capella choir. Life is VERY busy and full of music and I love it!
Where I am From and Where I Have Taught:
I am an Aussie! The only one in The Crew! I grew up in a tiny little town famous for its apples, called Batlow. Now I live in the beautiful capital city of Australia. During my 28 years of teaching ( OK – I told you)  I have only taught in two schools, both in the ACT (Australian Capital Territory).
Favorite Teaching Memory:
My favorite teaching memory??? Hmmmm – it's just too difficult to choose ONE!
What is super special about teaching music is witnessing troubled students (you know, the really difficult ones that other teachers have given up on) find a sense of peace and calm when engaged in playing music. Many of them develop such a passion for music that it's difficult to get them to leave the music room for their other classes! Music IS the universal language and it reaches everyone in a different way, and I get to be a part of that each and every working day!
Ohhhhh, here's one specific memory! Last year I entered my A Cappella Choir in the Australian National Championships for the very first time, and we made it all the way to the National Finals! I was sitting in the audience watching them perform, and have to admit I had tears in my eyes as I witnessed them carry out with energy and passion all that I'd taught them! It was truly magical.
Quick, Fun Facts About Me:
I'm not sure I'd call them fun facts, but here's a quick snapshot of some of the things I love and enjoy most:
Mountains rather than the beach
Nice quiet dinners (that I don't cook…. I'm a shocking cook) and time spent with my family
Planning for and travelling to new and interesting places around the globe
Playing the piano or guitar and singing
Working with my a'cappella choir
My two beautiful huskies, Balto and Togo
Why I Love TpT:
I started TpT as a bit of fun – something to occupy me while my hubby watched TuboMax on TV, but now it goes much deeper than that! Here are just three reasons why I love TpT.
It had a huge impact on my own teaching. Creating resources for others to use has caused me think more deeply about my own classroom practices and I know they have improved greatly as a result.
It has allowed me to help other teachers. Over the years I have been contacted by teachers who have used my resources and it has been a very humbling experience. TpT has given me the opportunity to play a small part in helping to improve the music classroom experience for students all over the world!
I've made new friends from other parts of the world who are also music teachers on TpT, and they are all so awesome! The helpful and supportive community we have created is amazing! We even got together via video for Christmas and opened Kris Kringle gifts last year!
.
Music Teacher Quick Tip:
For the quick tip I'd like to share with you one technique I use with choirs learning song with different parts. I use it after the students know their part.
Instead of arranging the singers in lines for their rehearsal, have them stand in a circle, with you in the middle!  Standing like this means the students can hear the full sound to which their part is contributing. It is excellent when working on vowels shapes, intonation and balance.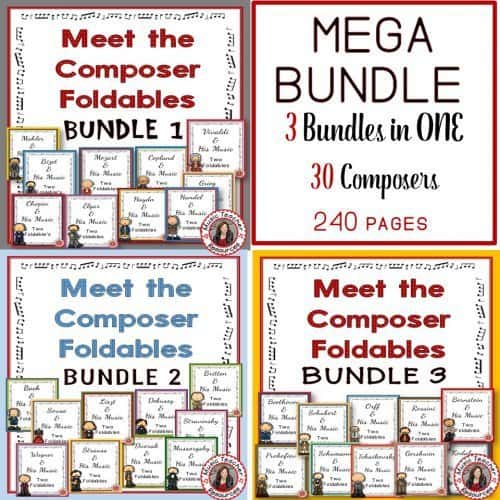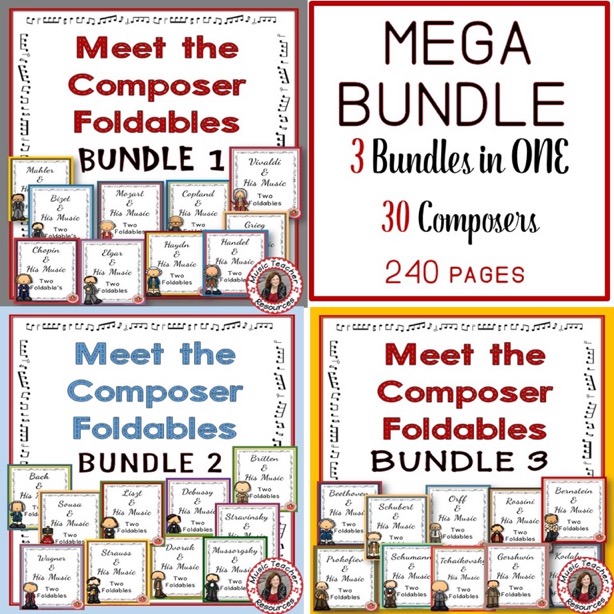 ' Meet the Composer and His Music' Foldables.
There are thirty composers in the series. Foldables can be purchased separately or in a savings bundle.
Students' record facts they have learned about the composer or respond to music of the composer during a listening lesson.
Here are some idea for how the foldables can be used with your classes:
♫ They make an excellent addition to your Composer of the Month or listening lessons!
♫ Completed foldables can be pasted into student workbooks/listening journals OR displayed on a bulletin board.
♫ Have students choose a composer for a mini research task.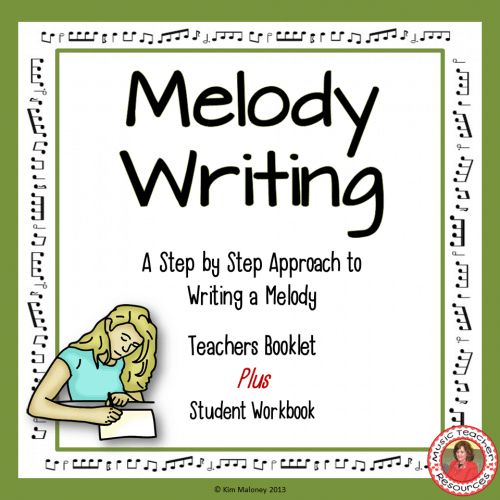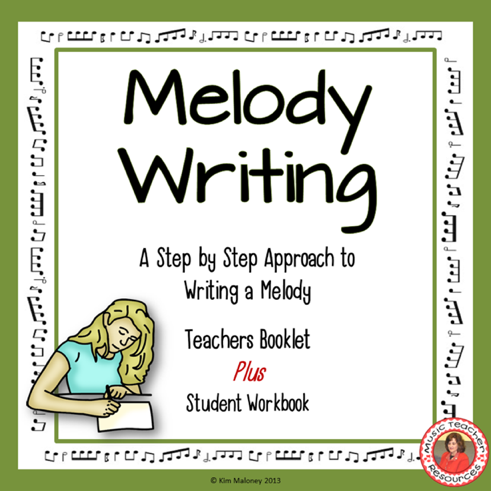 MUSIC COMPOSITION Step by Step Approach to Composing Music for Middle School Music Classes
Teaching young musicians how to write a melody is not easy.
I have used the process outlined in this resource for many years with my classes and it works without fail!  My students call this my melody writing recipe!
The resource contains a NINE page Teachers Resource that explains in detail, step by step, a process for young musicians to follow when writing their first four bar melody and a TEN page Student Workbook
I'm so excited to be a part of the crew and to have the chance to get to know you better! Thanks so much for taking the time to read a little about me! So let's keep in touch!
You can checkout more lesson ideas and resources on the MTR website or join the MTR Facebook community!
Take care,
Kim Maloney
MusicTeacherResources

[et_social_follow icon_style="slide" icon_shape="rectangle" icons_location="top" col_number="4" outer_color="dark"]