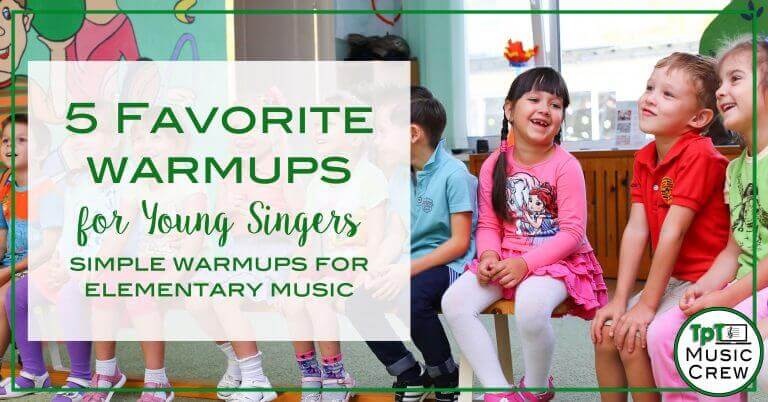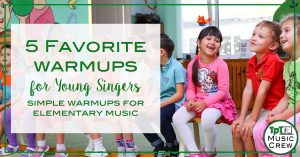 Although there are many opinions about the best way to warm up the voice, most music teachers agree that warmups are an important part of music class. Whether you're looking for fun songs on YouTube or teaching tips for tongue twisters, I'm sharing my favorite vocal warmups that I use in my elementary music classroom and with my youth choir students.
Known Songs in Canon
Singing in canon is one of the best ways to get our young musicians to start to listen critically to what they are singing. The built in harmony and the challenge of keeping the beat with the other groups makes my students' ears perk up.
Although I start teaching canon in first grade, I find that 3rd graders and above are able to listen critically and adjust to each other better in canon. Some of my favorite songs to sing as a warmup canon for choir are folk songs like Hey Ho! Nobody Home, The Birch Tree, and Ah! Poor Bird (especially in October!).
For singing in canon, the most important tip I have learned is that students must have independence in order to sing in canon. If they don't know the whole song without any help or hints from the teacher, then it will be difficult to successfully sing in canon. Check out my post about how to teach canons here.
Echo Songs with Movements
My younger students love to sing echo songs, so about 75% of the time we spend our warmup minutes on echo songs. I create easy to remember hand motions to go with these songs so that we are getting a physical movement warmup at the same time. (movement warmup: check!)
I love the Jill Trinka and John Feierabend CDs – they include some great echo songs! Short but sweet songs like Oh, My Aunt Came Back and Purple Light are great additions to my list of warmup songs.
Vocal Exploration with Visual Aids
It is so important to provide visual aids to your students as a piece of the learning process. I know that for myself, as a visual learner, it is easier for my brain to grasp something if I can see it. I think the same goes for our students that learn visually.
Jennifer Hibbard from The Yellow Brick Road has a fantastic set of dragon visuals for vocal exploration! Check out this freebie here – the dragons swoop off the page with sound effects!
Your students' voices can hop around the campsite with this animated nosy camp bunny vocal exploration by SillyOMusic. It has a hilarious ending and is free in her TpT shop!
If you are looking for a simple way to add vocal exploration during your Veterans Day prep, check out this set of patriotic themed visuals in my Sweet Sounds TpT shop. It's a freebie!
Side note: When you are prepping a musical concept, it's important to prepare students kinesthetically, aurally, and visually before presenting the concept. While you might not have a "visual" during each section of the prep, adding a visual to the warmup is an easy way to reach out to your visual learners – plus it's very helpful for your English Language Learners!
Tongue Twisters
Adding a few tongue twisters to your repertoire can help spice up what could become a fairly mundane part of your daily routine. Tongue twisters not only add a level of challenge to increase student engagement, but they can also bring a lot of laughter and fun!
One of my favorite tongue twister resources is a children's book called Faint Frogs Feeling Feverish and Other Terrifically Tantalizing Tongue Twisters by Lilian Obligado. Unfortunately, unless you find it at a used book store or on someone's bookshelf, it looks like it's not in print anymore.
Check out these tongue twisting tips from Susan Dugdale of Write Out Loud: Diction Exercises. Or if you are looking to expand your collection of tongue twisters from A to Z, this list of Tongue Twisters to Practice Enunciation is a great alphabetical resource.
Vocal Exploration through Children's Books
Children's books provide a fantastic way to engage students' minds (and singing voices!) through imagination in a non-threatening way. By looking at the pictures and making sounds with the whole class, students don't have to feel self-conscious and can explore all the different types of sounds more freely.
"Mr. Brown Can Moo, Can You?" is a very simple story with easy animal sound effects. For older primary students, try "follow the line with your voice" books like, "Lines That Wiggle," and, "Through the Town: A Follow the Trail Book." Don't forget to check out Jennifer Filipak's recommendations for 3 "Must Have" Vocal Exploration Books on the Music Crew blog!
Bonus!
Having trouble convincing your older students that warmups are important? Check out this video of Kristen Chenoweth warming up with Game of Thrones or the boys of InspireChoir showing off their best warmups.
Want some fresh new ideas for children's choir warmups? Elizabeth Caldwell at Organized Chaos shares her favorite warmups for choir.
Need more singing tips? Read Music Mom Darlene Abbott's 6 Tips to Better Pitch!