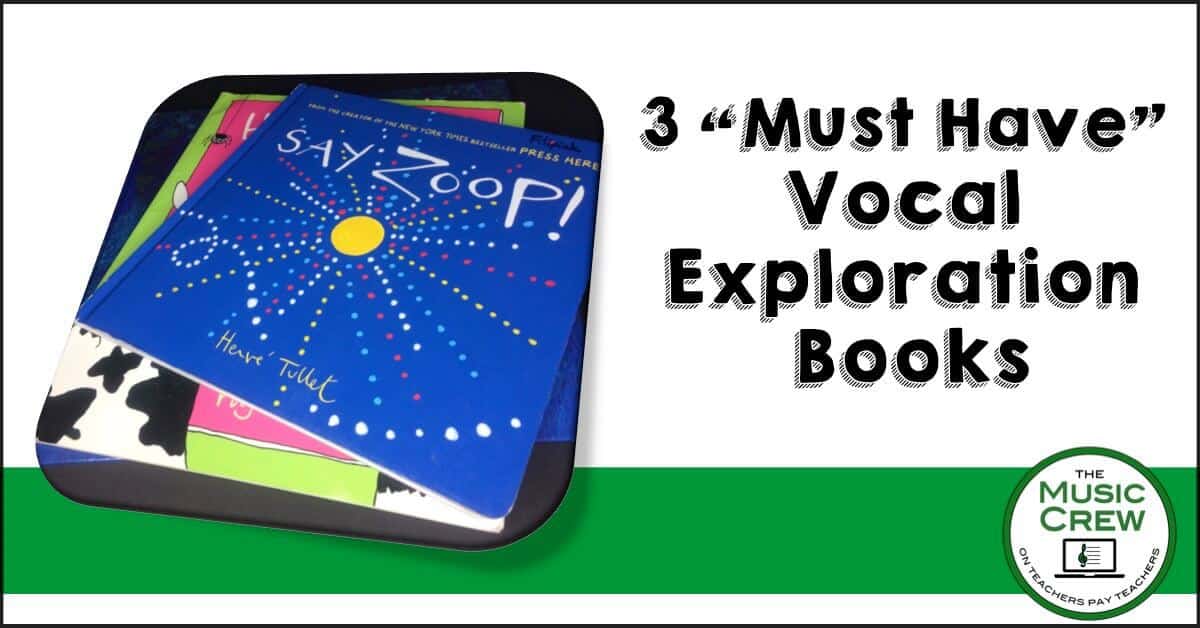 I LOVE to do vocal exploration with my students—especially kindergarten and 1st grade. Vocal exploration helps students explore their voices in fun ways which, in turn, gives them more control over their voice as they learn to sing.  Using vocal exploration with a book is especially effective because it takes students' minds off of being self-conscious and gets them focused on the book. By the time you finish reading, children are using the full range of their voice with glee.  Here are 3 "Must Have" Vocal Exploration Books to add to your classroom next year!
1.  "Say Zoop!" by Hervé Tullet If you listen to nothing else I have to say: go buy this book. It has the kids absolutely enamored! Students get to respond to dots that are on each page saying "oh" or "ah" (or maybe even "zoop!"). The variety of what kids get to do (diving, shivering, robot talking, etc.) as each new page appears is enough to get them giggling and swooping their voices with joy! I saw a master teacher present this book as I was observing her and before she was even done reading it, I had gone online and purchased it. It's unique, it's engaging, and has the kids in "the zone" when you read it.
2.  "How to Speak Moo!" by Deborah Fajerman Many of us teach a unit with farm animals in kindergarten and this book is the perfect tie in!  Students will be learning a new language called "Moo" and get to say moo a bunch of different ways. The pictures are adorable and there might even be a page connected to moosic…who can pass that up?
3.  "OH so QUIET!" by Lindsey Craig If you do campfire sing along songs at the end of the year, this book is for you! It's about camping in the forest at night and all of the sounds you hear. Students can practice being owls, bats, bears, and make other exciting sounds as they explore their voices. It's a short and sweet warm-up for students' voices with a cute story line too. It's perfect to read with the lights off, using a flashlight.  A nice follow up activity is to shine your flashlight on the wall and have students make their voice match what you draw with the light.  So fun!
There are many great books to use in our classrooms, but these are three of my favorite new books to use.  What are some new books you have loved to use this year?
Catch you next time I have something noteworthy!
Jen
(Noteworthy By Jen)