We all know how important it is to teach students how to compose their own music, but it can be very intimidating and difficult to teach! Today we have lots of ideas and resources to make composition easy for any age!
Lower Elementary
With lower elementary the key is to keep it simple, and keep it fun! Keep compositions short- limit them to 1 or 2 measures- and keep their options limited so they aren't overwhelmed. Keep it fun by using seasonal themes for inspiration, like using candy names as rhythms around Halloween, or using manipulatives like mini erasers, legos, or cutout shapes as iconic notation! You can read more tips for teaching composition in lower elementary grades in this post from Organized Chaos, and read on for more tips from other crew members!
An easy way for lower elementary students to compose is to have them start by composing their own vocal explorations. You can do this with pencil and paper or by having them draw on an interactive whiteboard and have the rest of the class sing their composition when they're finished. It's quick, easy, and students feel successful! – Jennifer Hibbard from The Yellow Brick Road
Start small. Start only with rhythm, or only with melody. If you try to add too many elements, the kids will get confused. – Melissa Stouffer from Mrs. Stouffer's Music Room
Check out these resources for lower elementary composition:
Upper Elementary
For upper elementary, focusing on specific musical elements is key! Whether it's rhythm, pitch, tonality, or something else, narrow their focus to the one element you want them to practice using, and have them create with just that one. If you want students to create a larger piece, start with one element and gradually add to it over time, or work together as a class or in small groups. Here are more ideas for teaching composition to upper elementary students:
Check out these resources for upper elementary composition:
Secondary
Composition is an excellent way to engage middle and high school students because it gives them opportunities for self expression. Give them plenty of ways to build in musical elements, but also give each composition meaning and context, whether it's creating a jingle for a new product, or writing a soundtrack for a movie. You can see more tips and ideas for teaching composition to secondary students in this post from Organized Chaos, and read below for more tips from the crew!
The best melodies are those that move mainly stepwise. The occasional leap can be used to create interest. Try to include a sequence in your melody. They help create a flowing and musically interesting melodic line. – Kim Maloney from Music Teacher Resources
The most meaningful composition lessons for middle and high school students are ones that focus on communicating a particular message, whether it's conveying a feeling, putting poetry to music, or creating music for a specific purpose like a commercial jingle or movie soundtrack. – Elizabeth Caldwell from Organized Chaos
Check out these resources for secondary composition:
I hope you found some fresh inspiration and helpful resources to make teaching composition easier and more fun for you and your students! And if you have any questions for me, you are welcome to contact me and I'll be happy to chat- you can find all of my social media links on my blog, or you can email me at [email protected] .
Elizabeth Caldwell
Organized Chaos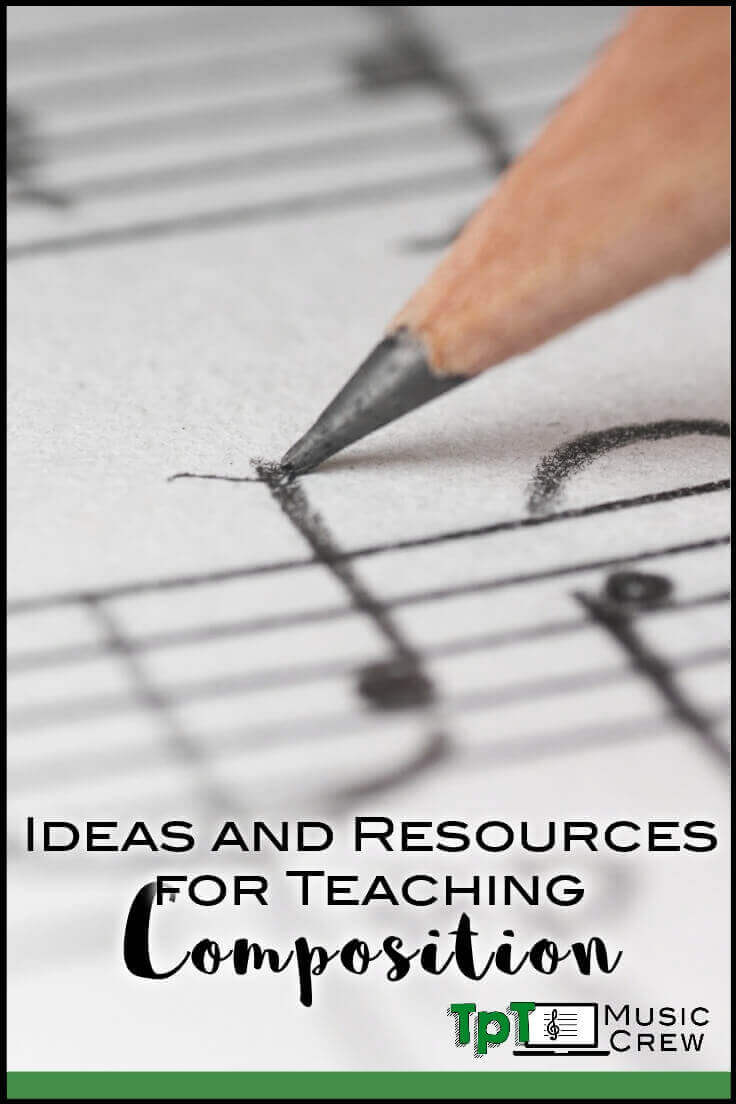 [et_social_follow icon_style="slide" icon_shape="rectangle" icons_location="top" col_number="4" outer_color="dark"]