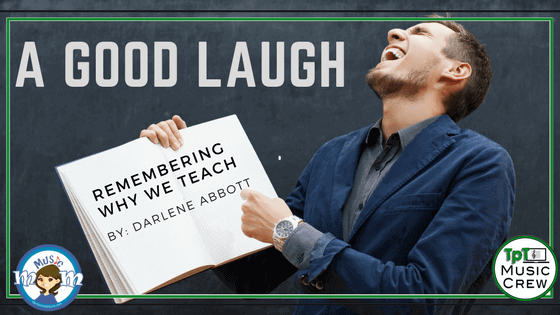 We all have different scenarios in our jobs and relationships at work.  Relationships with coworkers and with students can be challenging but can also be rewarding. For just a moment, let's focus on the lighter side of our profession. Let's take just a moment to remember the smiles, the good, that small moment when you know you made a difference. Maybe a few of my memories will help you remember too.
Kids really do listen to our instructions, but sometimes the timing of the follow through is a little off. We were singing in a large auditorium. My choir was lined up, first grade on the bottom step, second grade on the next, through fifth grade on the top. We were singing two songs as a part of a Christmas program. When the first song ended, Charlie, a first grader, stuck his hands in his pocket. His eyes grew really large, and he hopped off the first step. He ran across the front and up the side stairs to his mom in the balcony.  She met him about half way down, and he handed her something out of his pocket.  He did an about face, ran back down the stairs, across the front of the auditorium, and hopped back on the bottom step in his place.  He flashed me a great big grin and sang the first note of the second song. After the concert, I asked him about the incident. He said, "Oh, you told us not to have anything in our pockets that would be a distraction.  I found a car in my pocket, and knew I had to get rid of it."
A piano student brought me a gift one day. (pictured) It was a song he had written. He is in Kindergarten. He said, "Mrs. Darlene, I wrote you some music." Me: "Oh let me see if I can play it." I sat down and play something that I thought resembled the music he had written.  He stopped me and said, "Mrs. Darlene, your hands are supposed to be going all over the place." So, I played something where my hands where ALL over the place. I looked at him and said, "Was that better?" He said, "You keep working on it."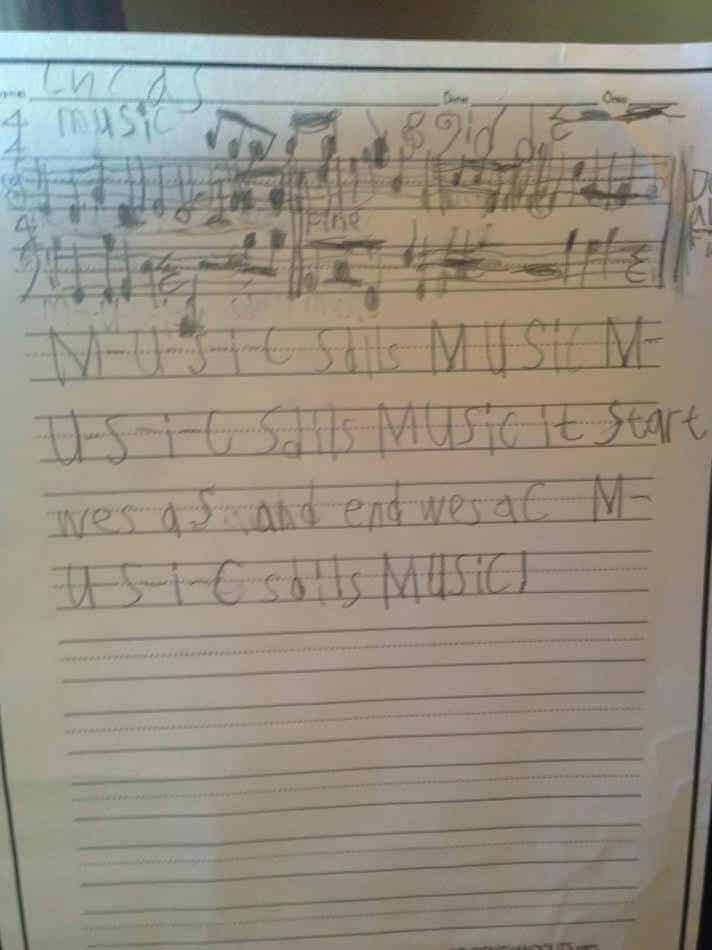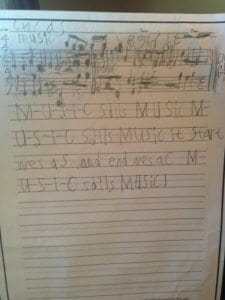 Sometimes we wonder if they will ever get "it," whatever the "it" instructions are that day. A young, red-headed first grader was in an assembly.  She and her twin sister were more than a handful.  As a team we decided what our rules would be with this family of children so we would be consistent in our rules as well as how we loved and encouraged them. We have had many talks with these two. During the assembly I had tapped her on the head multiple times to quit talking.  Finally, I walked over and simply took her by the hand. We walked outside into the hall.  I put my hands on my knees and bent down at her eye level.  I said, "Lucy, honey –" Before I could say anything else, she reached up and put her hands on my cheeks. "I pwomise," she said, "we ahre wuhking on it." I just hugged her and said, "Please keep working on it."
I have a first-grade piano student who always speaks to me in English but speaks to his dad in Chinese. I asked about it one day and his dad told me that he speaks English at school but that they only speak Chinese at home. He grabbed his phone and showed me a picture of the paper that the first grader had written in Chinese. I was impressed. I looked back at my student and said, "Wow, you are smart." He said, "Mrs. Darlene, I'm not smart, I'm Chinese."
Early in my career I taught music at a preschool.  I had one young man who was extremely hyper. He wasn't bad but was so busy he needed a "one-on-one" helper. The helper was Mr. Brandon.  When Ben would get way too wound up, Mr. Brandon would take him to get more rhythm sticks or pencils or something from the supply closet for music class. This little walk down the hall allowed him to calm down and regain control of himself. One day we were doing a Mexican Bean jumping song. (I wish I could find this song again.) As we started jumping, it didn't take long to see the wild look in Ben's eyes.  Then I noticed the wild look in Mr. Brandon's eyes.  Ben looked at Mr. Brandon and said, "Mr. Brandon I think we need to go out."  Then Ben preceded to take Mr. Brandon and himself on a walk to calm down.
This story is actually personal. My oldest daughter is going to school to be a music therapist. Before she left last fall, my youngest son said, "Sissy what it is that you are going to school for…..to be a……piano chiropractor or something?"  Close!
OK, one more from my family. You might be a Music Geek Family if… We are all in the van listening and singing to the radio. My oldest child says to the middle child, "Hey! Get off my note. I was there first." My husband said, "Well if we are ever on the same note, you'll have to move, 'cause that's probably the only note I can find."
Graduation time is quickly approaching. A student came to me and said, "I just wanted to tell you thank you." I asked, "What in the world for?" She replied, "For giving me the gift of music. The gift of singing.  I sing when I'm happy, when I'm sad, or when my soul has no words." Of course, my heart had no words at that moment.  I hope you are lifted up and encouraged today to keep teaching. Keep singing.
Always singing,
Darlene