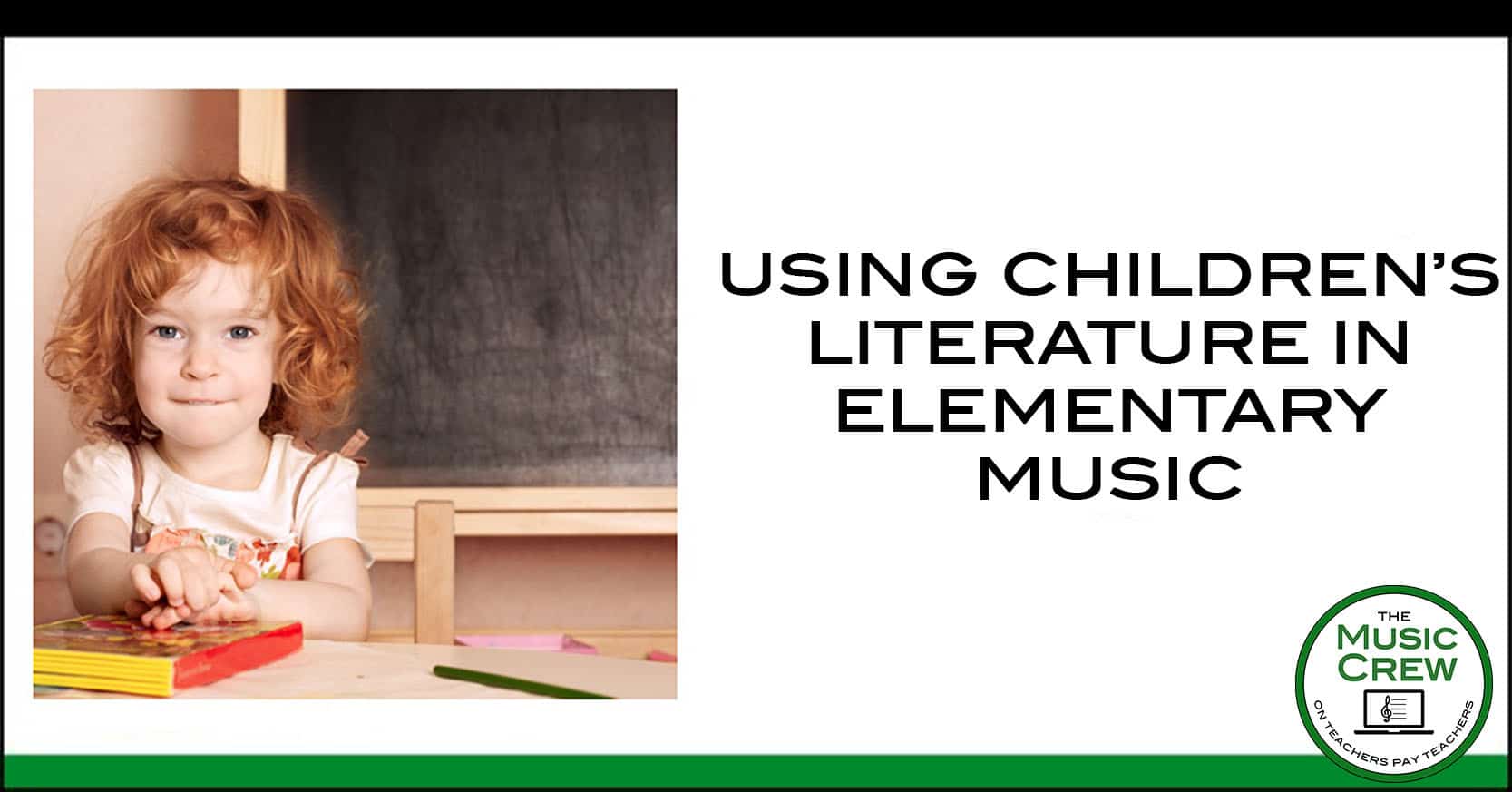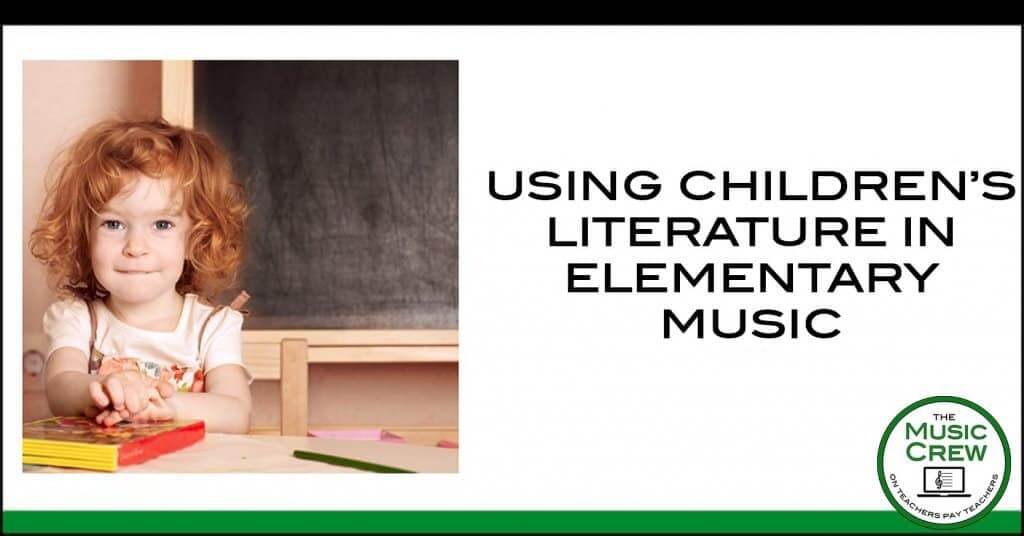 Raise a hand if you've ever had to take a reading course as part of your music education program?  Yep, me too!  I remember having a hard time connecting with the content because the class was designed for general education students.  There was very little connection for music educators on how we could use literature to enhance student learning or instruction in our classrooms.  I decided to make the class meaningful for me and started researching books I could use in elementary music.
The wonderful thing about children's literature is that many books are rich in imagery, text, repetition, and vocabulary.  All of those things support musical content in elementary music.  Think about how we use repetition to help identify form or to perform an ostinato?  Think about how we introduce text to introduce a program piece or a ballet?  Think about how we use vocabulary to understand musical elements?  Think about how we use imagery to get a desired effect or style from our students?  There is so much to be drawn from children's literature to enhance musical understanding for children.
Want to introduce new vocabulary to children?  Try reading Fancy Nancy by Jane O'Connor to them before introducing those fancy "Italian" terms in music.  Make it a game for students to use an Italian Dynamic or Tempo term when describing music!
Want to introduce tonal ostinato to students?  Try reading Jump, Frog Jump!  by Robert Kalan.  The repetition of the phrase "jump, frog jump" lends itself easily to performing a tonal ostinato on octave bells or xylophones!
Want to explore dynamics with students?  Try reading Listen to the Rain by Bill Martin Jr.  and John Archambault. The authors describe different types of rain in the story.  Let your kids explore creating their own rainstorm with mallets and dry erase boards!
Want to show students verse and refrain in action?  Read Shake Dem Halloween Bones by W. Nikola-Lisa.  Each character has its own verse with a repeating refrain throughout the story.
Want to explore meter with students?  Read the animal poems of Douglas Florian like Mammalabilia.  Talk about how poems have their own steady beat and that sometimes that beat divides by two (2/4 meter or duple) or three (3/4 meter or triple.  My students use poems as the lyrics to their first song writing composition.
When all else fails, pick up a book and do a sing-aloud for your students!  Teachers make read alouds an integral part of their day.  Why not do the same in music?  I see my kids once every 3 days for 40 minutes.  For my lower elementary students, that's a long time for music class.  I always end each K-1 class with a sing-aloud to bring them back to a state of calm so they're ready to leave the music room.  We sing stories like Puff the Magic Dragon, The Marvelous Toy, Somewhere Over the Rainbow, Baby Beluga and more.  And here's the thing – like all favorite stories, we don't read them each just once!  We may sing them aloud two or three times!  Then I add the beloved stories in music centers as well.
Over the years, I've collected a library with over 250 books for music.  Looking to add some new titles into your music room?  You can check the list out here!  To read more about incorporating children's literature into elementary music, click on the links below!
I hope this gives you some ideas and inspires you use children's literature in your own lessons!  Do you have a favorite story to read or use in your own music room?  Leave me a comment below!  I'd love to hear about your favorite books for elementary music!   If you have additional questions – you can reach me at [email protected].  Thanks so much!
Musically yours,
Jennifer Bailey, SingToKids
SaveSave
SaveSaveSaveSave
SaveSave