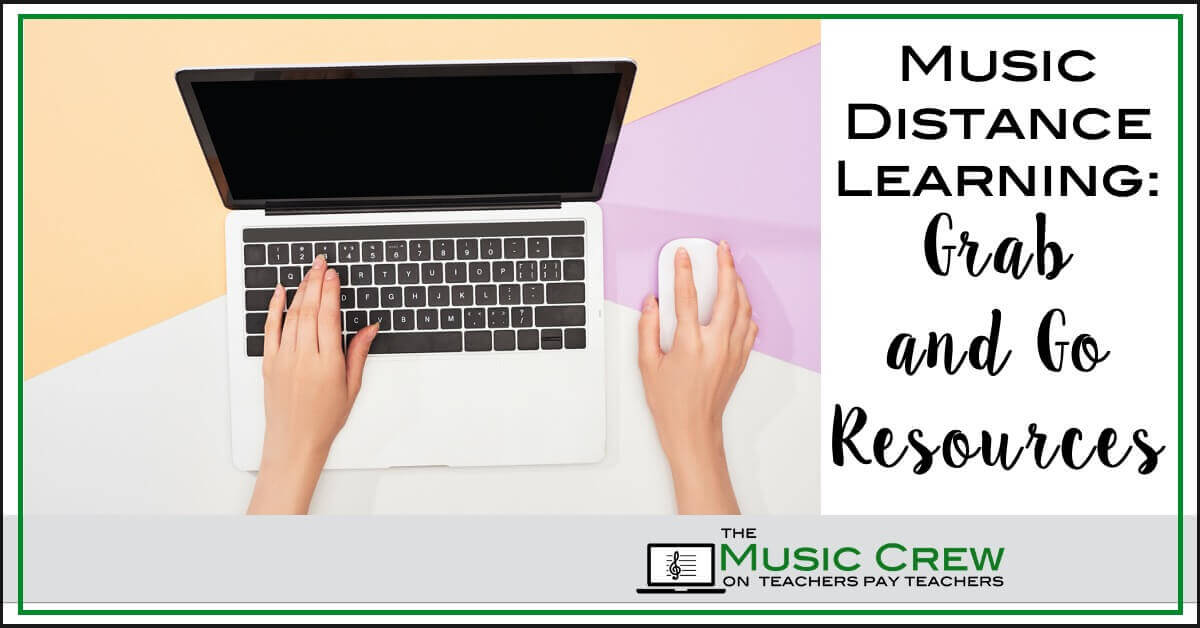 As distance learning continues, the pressure to come up with new music lessons in each of our varied settings can be extremely challenging.  Some of us are allowed to use videos and have zoom office hours, while other teachers have to use lessons that can be sent home in a printed-only format.  Regardless of your situation, The Music Crew has rounded up some "grab and go" resources that are perfect for distance learning to help you have fresh resources at your fingertips!
 1.  Basics Bundle by The Yellow Brick Road
These digital assessments are customizable, easy to use, and provide you with instant data that you can export to a spreadsheet. Best of all, it also comes with a duplicate paper version of the assessments. With this resource, you'll have everything you need to assess your students on all the basic elements of music.
2.  Composer Time Capsules by Music Educator Resources 
Each of the composer time capsules include a Kahoot (online trivia) game. Kahoot's can be played live or assigned to students to do on their own time at home. Composer time capsules make distance lesson plans easy and learning about composers fun!
3.  Music Undercover by Noteworthy By Jen
This dice-rolling game is perfect for teachers who have to send home print-only lessons for their students.  Students can review musical terms such as note names and dynamics by playing a competitive game with a partner.  Students could also play against each other on Zoom or Googlemeet!  Pages are differentiated to help with different teaching situations.
4.  Silent Musical Instrument Bingo by Hutzel House of Music
This bingo game can be played live over Zoom. Have each child create their own board by copying the instrument names off the callers card into a grid, then use one of the pdf game files over screen share for them to play. It's a great review of instruments because they have to match the picture they see to the name of each instrument on their boards.
5.    Musical Moments Listening Pack by Floating Down the River
This is perfect for now or in the fall where students have to be social distanced. They can learn snippets about composers and be given something specific to listen to with a drawing activity. Makes a nice booklet to send home. I did this for a year with my entire school, spending just a few minutes a day to review some music and do a new piece once a week. It was a huge hit.
6.  High and Low Task Cards by SillyOMusic
This High & Low game is great for primary. Just send students a link, and the game will pop-up in their browsers ready to play! It's also compatible with Google Classroom and other platforms.
7.  Build-a-Song:  Bee, Bee, Bumblebee by Musical Interactions
Boom Cards are fun, self-correcting task cards that provide immediate feedback. This set of 3 decks reinforce rhythmic notation for the song "Bee, Bee Bumblebee" – iconic, stick, and standard notations. Boom Cards can be used on any device and are compatible with Google Classroom, Seesaw, and other Learning Management Systems.
8.  World Instrument Listening Unit by Organized Chaos
Students can independently explore musical instruments and traditional music from 6 different cultures around the world through easy to read information and embedded links to videos of authentic performances. Brief information about the country is included as well.
9.  Moosical Rhythms by Sally's Sea of Songs
Moosical Rhythms is a fun, farm-themed practice for basic quarter, paired eighth, and quarter rest rhythm patterns.  Students use any rhythm system to practice reading 4-beat patterns composed of various combinations of characters. The final section allows students to slide the characters & notation to create their own patterns to read. Send to your students via your Google Classroom, Google Drive, Microsoft OneDrive, or your preferred learning management system.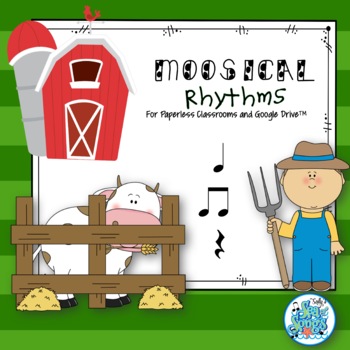 10.  Caterpillar Composing by Mrs. Stouffer's Music Room
This is a great worksheet to send home in packets, or use the included images and composing dots to create a digital resource customized for your kids.