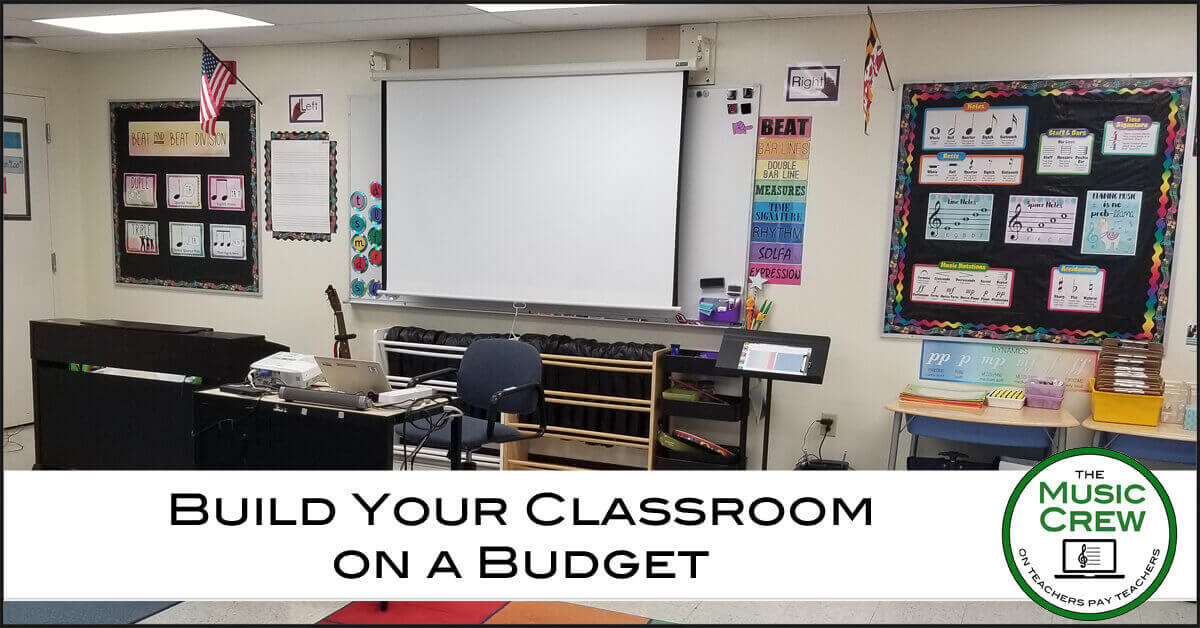 It's back-to-school season in the US, and for many music teachers- myself included- that means time to empty our wallets at Target and the Dollar Tree while grabbing up the cutest finds for our music rooms. Unfortunately, many of us are doing this without a budget and end up spending hundreds of dollars out of our own pockets to curate the perfect space for our students. While I am 100% guilty of doing this, (after all, who can resist a stop by Bullseyes Playground when on a Target run?) I have also found some alternative ways of building a music classroom that don't have to cost an arm and a leg.
THRIFT STORE FINDS
The majority of my classroom supplies come from thrift stores. I live in a big metropolitan area and there are no shortage of stores to shop in, but you can also shop certain thrift stores online if there aren't any in your neighborhood. The best way I've found to be successful in thrifting is to go often! My husband is an avid collector of records and electronics, so our family visits at least one thrift store a week, usually two or three for a fun Saturday outing. Most stores have a toy section where I'll let my toddler explore for a while.
I have found dozens of storage containers and baskets in thrift stores and I have also gotten lucky on a few big-ticket items, such as my classroom easel and bookshelf. (Both were under $10 each.) 
I even found one of those IKEA carts (you know, the one that every teacher has) new in box. It was the first time I ever put a piece of IKEA furniture together all on my own!
The thing to remember about thrifting is that you will not always strike gold. Many days I walk out of a store empty handed. Don't let this discourage you, because as long as the store has a steady stream of donations, the inventory will always be changing. You can also ask the store associates which days they do their pricing and when new stock goes on shelves. This can give you first dibs at the good stuff when it goes out.
TRASH TO TREASURE
As the old saying goes, "One classroom teacher's trash is a music teacher's treasure!" (Wait… no one says that? It's just me?) You can score some pretty great finds if you know who to ask and when to look.
Does your school set up a giveaway table? My school has a designated table in the teachers lounge where any staff member can drop off unwanted items from their classroom. I have gotten magnetic manipulatives, student headphones, and even storage racks for ukuleles by nabbing unwanted items from my colleagues.
The best time to do this, in my experience, is at the very beginning and very end of the school year. This is when many teachers are cleaning out their rooms and re-organizing. Extra bonus if a teacher at your school is retiring… They always have so much to donate!
At my school, after items sit on the table for a few weeks, one generous teacher drives them down to the teacher supply swap in our city, so they are definitely going to find a home one way or another. If you don't have any type of free table or teacher swap in your neighborhood, you could also try children's consignment stores, yard sales, or tot swap events. These are often filled with great toys for cheap that you can modify for music activities!
DECORATE ON A BUDGET
I remember feeling so proud the summer before my first year teaching: I walked into the teacher supply store and bought my very own roll of anti-fade bulletin board paper and rounded up all of the posters and reference materials with music notes on them! What I didn't know then was that I wasted about $80 on items I could have found for much less money elsewhere.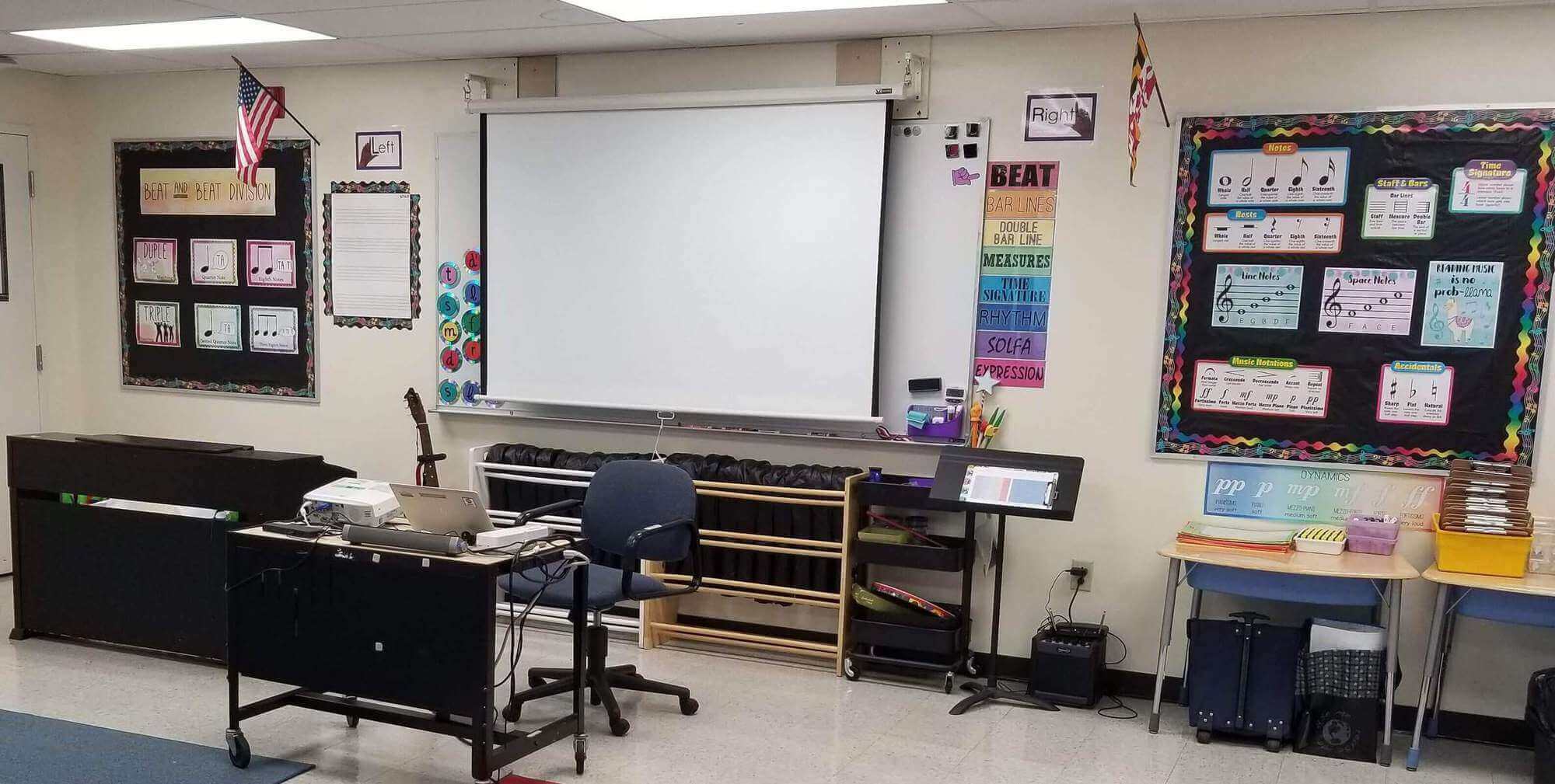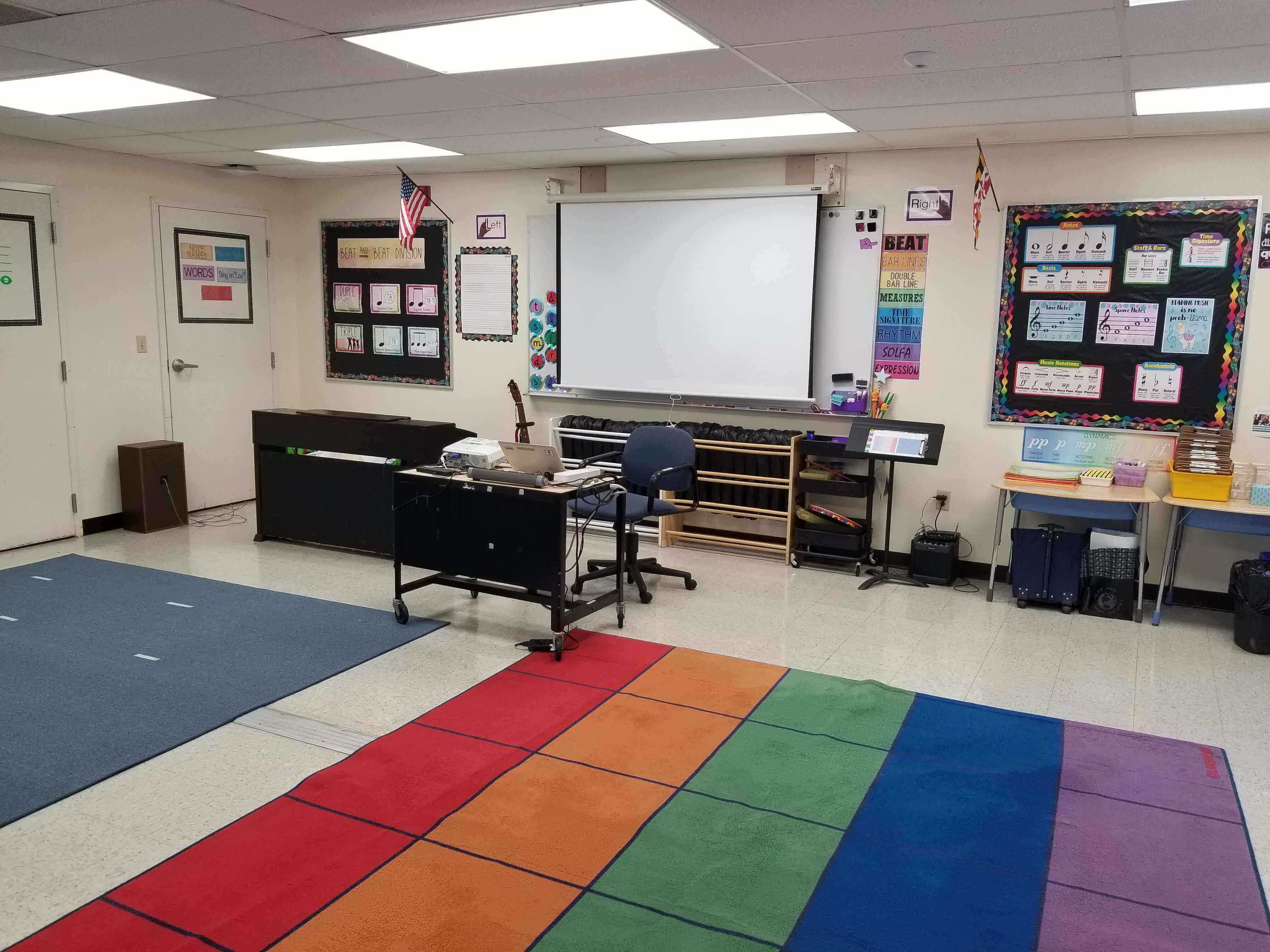 Nowadays, I back my bulletin boards with plastic tablecloths from the dollar store. They are easy to staple, cover a large surface and don't fade. So much cheaper and easier than the rolled paper. 
Obviously if you follow the TpT Music Crew, you already know about the best way to get classroom decorations for less money: by downloading ready-made resources on Teachers Pay Teachers and printing yourself! Here are the classroom decorations that I've created!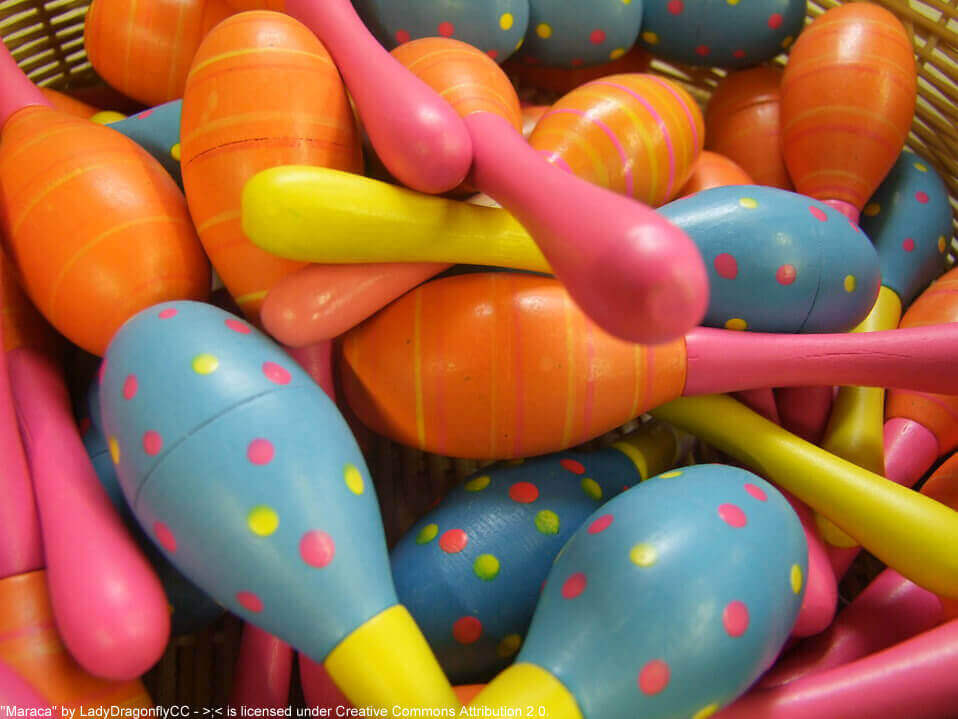 INSTRUMENTS
Please remember that you don't need a huge collection of Orff instruments to be a good music teacher. The human voice is everyone's first instrument. You can- and should- be doing tons of singing games, play parties, folk dancing, body percussion, listening/movement activities, improvising, and composing in your classroom. While it's true that having a variety of instruments can make all of this easier, it's certainly not a requirement.
If your classroom is lacking in instruments and you don't have much of a budget to order them, I recommend starting with a few basics: a class set of rhythm sticks and egg shakers will make it so that every child can have an instrument in their hands. Then you can work on adding drums and other unpitched percussion for color and variety.
GRANT WRITING AND CROWD FUNDING
The growing trend of crowd funding makes fundraising for your music class easy. With Donors Choose and Amazon Wishlists, any teacher can be successful in raising funds for the classroom. It's all about knowing who to ask. Are teachers in your school allowed to reach out to the community to donate? If not, do you feel comfortable asking your own friends and family for assistance? Sometimes I ask my family members just to share my posts because you never know who they might reach.
Personally, I try not to over-share to my own personal network. I don't want my friends to be sick of my posts and if I'm fundraising for something really important, I don't want it to get lost in the buzz. However, you never know who might show up and support you. I recently shared my Amazon wish list and a friend that I haven't seen since high school bought an item! She told me that she knows the importance of the work that we do for kids.
If you have an Amazon wishlist, don't forget to share it on twitter using the hashtags: #clearthelist and #clearthelists. I've seen many celebrities on Twitter who are looking for teachers to support; it never hurts to ask.
If you're able to use Donors Choose, I recommend always having a project active. You never know when a company might step in and donate to your project. I have received several donations from music foundations and music stores that helped me to reach my goals. 
Don't forget keep an eye on the new crowd funding opportunities that will be available through Teachers Pay Teachers Class Fund; this will be another avenue to help you get more resources into the hands of your students.
AND LAST, BUT NOT LEAST…
… let's not forget the most important commodity in your classroom is YOU! All the cutest storage bins and prettiest bulletin boards cannot take the place of a high quality music teacher. Your students don't need a shiny, perfect classroom with colorful streamers hanging from the ceiling: they need a teacher who is happy to see them and fully committed to their wellbeing.
It doesn't matter if your students enter a classroom that's perfectly decorated on the first day of school. It's OK to have blank space on the walls. YOU are responsible for setting the tone for your student's experience in music class, NOT your posters, so please don't bankrupt yourself to make a Pinterest-perfect classroom. Take your time curating meaningful items that will help you teach more effectively. And don't forget to take care of yourself, too. 
Have a thrifty and amazing school year!
Rachel