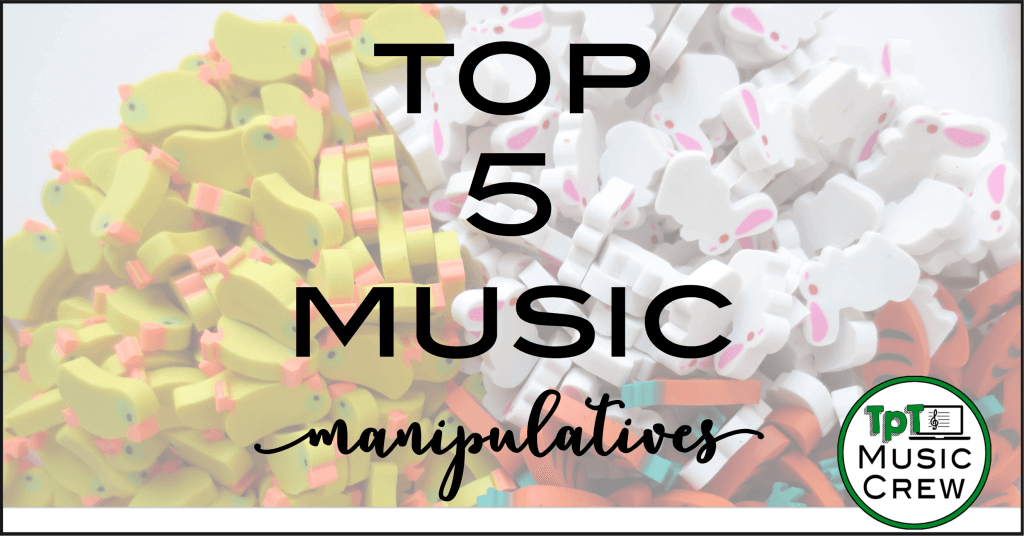 Music manipulatives are one of my favorite resources for the music classroom. As defined by Merriam-Webster:
Manipulatives are "objects (such as blocks) that a student is instructed to use in a way that teaches or reinforces a lesson". 
Unlike teachers of other subjects, music teachers have a few more things to consider when choosing manipulatives. We have hundreds of students each week (or sometimes each day) using our manipulatives. As a result, we have to ask ourselves the following questions:
Is this durable enough to hold up long-term?
Hundreds of students with mysteriously grimey hands will be using the manipulatives throughout the day. Here are some questions to consider before investing money in new manipulatives.
Will the manipulative withstand the occasional liquid substance? 
Will the manipulative hold up to being thrown on the floor or walked on? 
Will the manipulative roll under the cabinets never to be seen again?
How many manipulatives do I need?
This is a question I struggled with often. The answer is: more than you think! It never hurts to have some spares. Get out your calculator and consider the following:
Do you have enough manipulatives for each student to create an eight-beat composition using mostly barred eighth notes?
Will you use these manipulatives with all grade levels or just one?
How many manipulatives do you anticipate being lost or destroyed throughout the year?
How often will I use these manipulatives?
Some manipulatives, such as plastic eggs, are geared toward the spring season. While others, such as building blocks, can be used all year round. Manipulatives aren't worth the investment if you'll only be using them once. Ask yourself the following:
Will my students be excited to use these manipulatives?
Will my students want to use them again later?
Can I use these manipulatives at any time of the year?
If the manipulatives are seasonal, will I be able to use them again next year?
Now that you've considered some of the logistical aspects of manipulatives, let's chat about some of my favorites! I tend to favor manipulatives that are durable, that the students will get excited about, and ones that can be used all year long. Here are my top five manipulatives for the elementary music classroom:
 1. ERASERS
And by erasers, I mean the tiny ones you find each season in the Target Dollar Spot. I'm sure I'm not the only music teacher to hoard these little goodies. They're cheap, durable, and you can find ones to match any season. Besides, who says cupcakes and rabbits can't go together?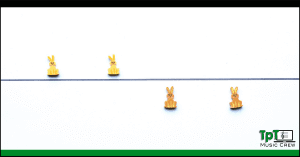 In this example, I drew a one-staff music line and used the manipulatives to practice high/low.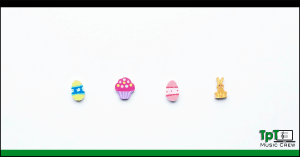 Here, I've used the manipulatives for rhythm practice. The eggs equal a quarter note, while the rabbit and cupcake represent barred eighth notes.
 2. POPSICLE STICKS
Popsicle sticks have always held a special place in teachers' hearts, and for good reason. They're available at most craft stores in a variety of sizes and colors, they're relatively inexpensive, and they can be used in several ways.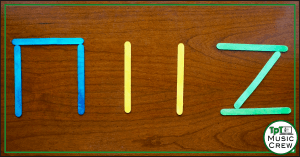 In this example, I've used popsicle sticks to write out rhythms in stick notation.
You could also write out rhythms on each stick and create a game out of it. Busted is one of my favorites. Or, If you have a variety of colors, you can assign one color to each pitch and use them for melodic dictation. Depending on the colors available, you might even be able to match them up with your favorite set of pitched percussion instruments.
 3. MAGNETS
The benefits of using magnets as manipulatives are numerous. One being that you can create a magnet out of almost anything using magnetic tape. I created Solfége magnets using a free printable from my store and magnetic tape, as pictured below.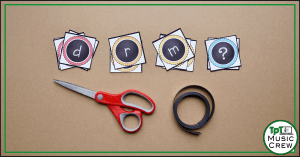 For this project, all you need is magnetic tape (I found mine in an office supply store), scissors, and this free printable. Then, print and laminate the Solfége sheets and cut along the dotted lines. Cut the magnetic tape into small squares and stick it to the back of each syllable. Tada! You have Solfége magnets!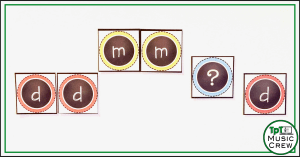 Tada! You have Solfége magnets!
The question mark is from my full set, and can be used as a "mystery note" during melodic dictation practice.
Almost every teacher has access to a magnetic surface. Whether that be a magnetic whiteboard or chalkboard. Or, as one resourceful colleague suggested,  turn two metal filing cabinets back to back to use as a magnetic board.
Another benefit to magnets is that you can use cookie pans to create magnetic boards for every student. My friend Elizabeth (and fellow Music Crew Member) did just that to create her Rhythm Monster Magnets.
4. PIPE CLEANERS
Pipe cleaners are not the most durable on this list, but they're definitely the cheapest! If you're looking for a manipulative that the students can take home with them, this is it!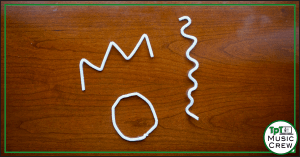 You can use pipe cleaners for vocal exploration. Model the activity first, by bending a pipe cleaner into a wavy line. Then, ask students to sing the line with you. Model the activity several times with varying shapes, then give each student a pipe cleaner and let them make their own. You may be surprised by how long they're engaged with this simple activity.
 5. POKER CHIPS
Poker chips can serve double duty in the music classroom. Use permanent marker to write Solfége syllables on one side, and rhythms on the other.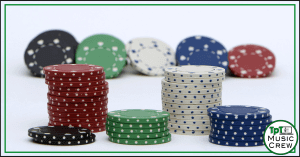 They can be used in centers, games, and assessment. Younger students can string together familiar rhythms to create a "rhythm caterpillar". The melody side can be used for melodic dictation or for composing melodic ostinatos. The possibilities are endless.
Bonus: poker chips are nearly indestructible, so there's little chance you'll ever need to replace them.
I hope some of these ideas inspired new ways to use manipulative in your classroom. Perhaps, you'll decide to create your own manipulatives as a summer project! Please share your own manipulative inspirations in the comment section below.
If you'd like to see more lesson ideas like these, or learn more about me, please visit the Yellow Brick Road Blog.
Musically,
Jennifer Hibbard
Yellow Brick Road