Hi there! My name is Michelle(from
Music with Miss W
) and I have a slight podcast addiction. WHEW! Glad I could get that out into the open. But in all seriousness, I do love podcasts.
Let's start at the beginning: what the heck is a podcast anyways?
odcasts as "digital media files that can be listened to on portable audio devices and computers. Despite the wide variety of content and storytelling styles represented within the podcast industry, the format is relatively simple: a piece of audio that you can listen to on demand." Basically a podcast is some really awesome audio that you can play whenever you want.
How/when do you listen to podcasts?
I listen to podcasts mostly on my iPhone through the podcasts app. Don't have an iPhone or hate the podcasts app? Check out this list for some alternatives.
I listen to podcasts mainly when I'm in the car, when I clean, and when I work out. I first started listening to podcasts because sometimes on my drive home, I didn't want to drive in silence but I was a little worn out of music because I had just interacted with it all day via my job. #musicteacherprobs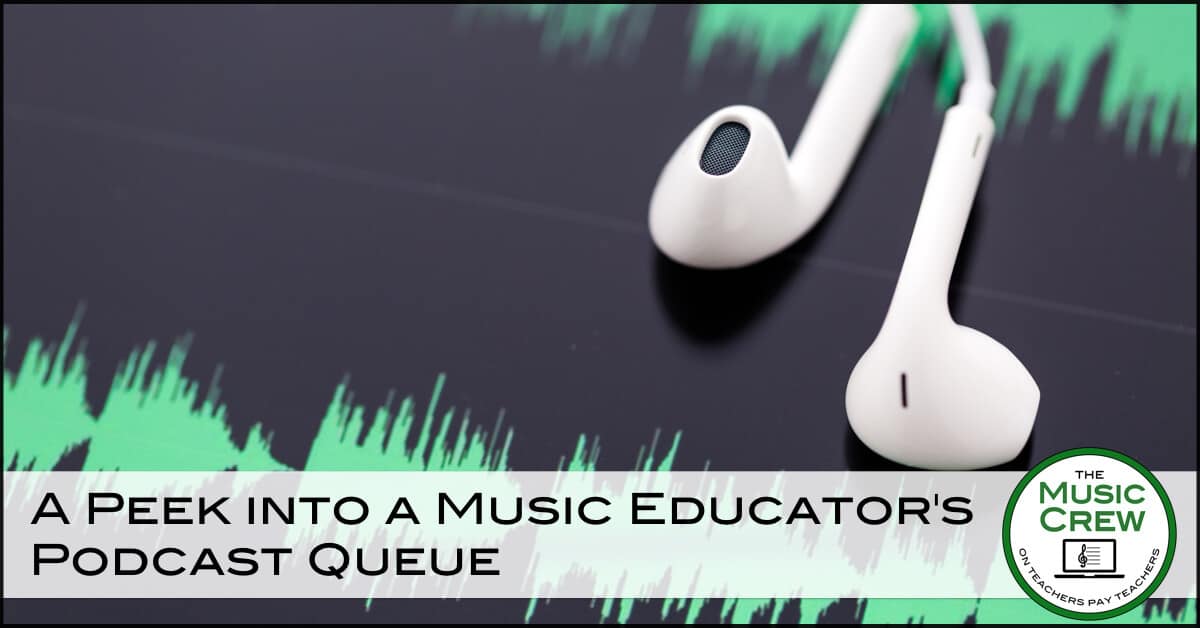 So what do you listen to that matters to me as a music educator?
Remember how I mentioned that podcast addiction? Yeah…I am subscribed to over 40 podcasts. Some of them run in seasons so I don't always have 40 new podcasts in my feed every week.  40 may seem like a lot but honestly, that's just the tip of the iceberg. There are podcasts for everything – for health, for fitness, for story telling, for news, and even for music education. There are sooooo many podcasts out there(and sometimes it's tough to sort through and find what you want) so I am going to share with you the ones that I have found and listen to regularly.
If you're a high school band director, you need to start listening to the
Marching Round Table podcast
ASAP. There are literally 100s of episodes teeming with information on marching band and indoor percussion/guard from a huge variety of experts in the field. Soooo many topics are covered from designing your show and warm ups to advice for first year teachers and debates about hot button topics and so much more.
When you're in year 1 or in year 30, the
Music Ed Mentor Podcast
has some awesome ideas on how to become a better music educator. This podcast covers the gamut of being a music teacher with topics like classroom management, performance logistics, and planning.
The Chalk Full of Life Podcast
is not music ed specific but it is #teachertired and perfectionist specific(and I feel like most music educators fall into those categories). The podcasts is about  "transparent talk and tools to help you live + love your best #teacherlife in AND out of the classroom." Great advice for the perfectionist in you(especially if you're feeling burned out and tired all of the time).
Did you know that our very own Anne Mileski has a podcast? She sure does and you can check it out
here
. Her podcast is "all about discovering your most joyful music teacher heart through purposeful conversations and a little teacher talk." We could all use a little more joy in our teaching, couldn't we?
Dear Hank and John
isn't related to education necessarily. But it is my favorite comedy podcast. And honestly after a loooooong day, sometimes I need to laugh a little bit. It's hosted by Hank and John Green. If you don't know who those two are, I highly recommend checking out all of the neat stuff they do.
Do you love podcasts? What's your favorite? Tell us below in comments!