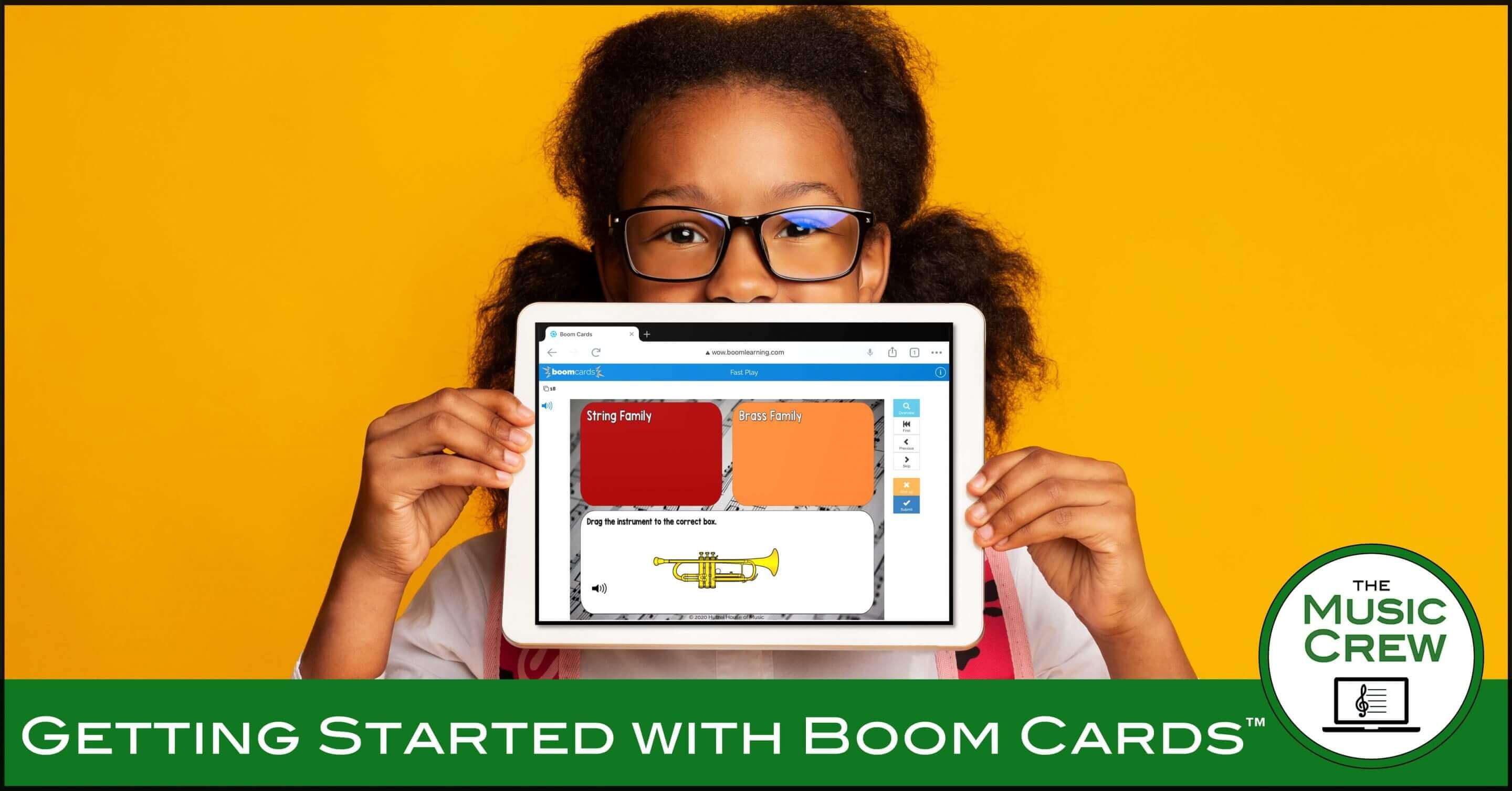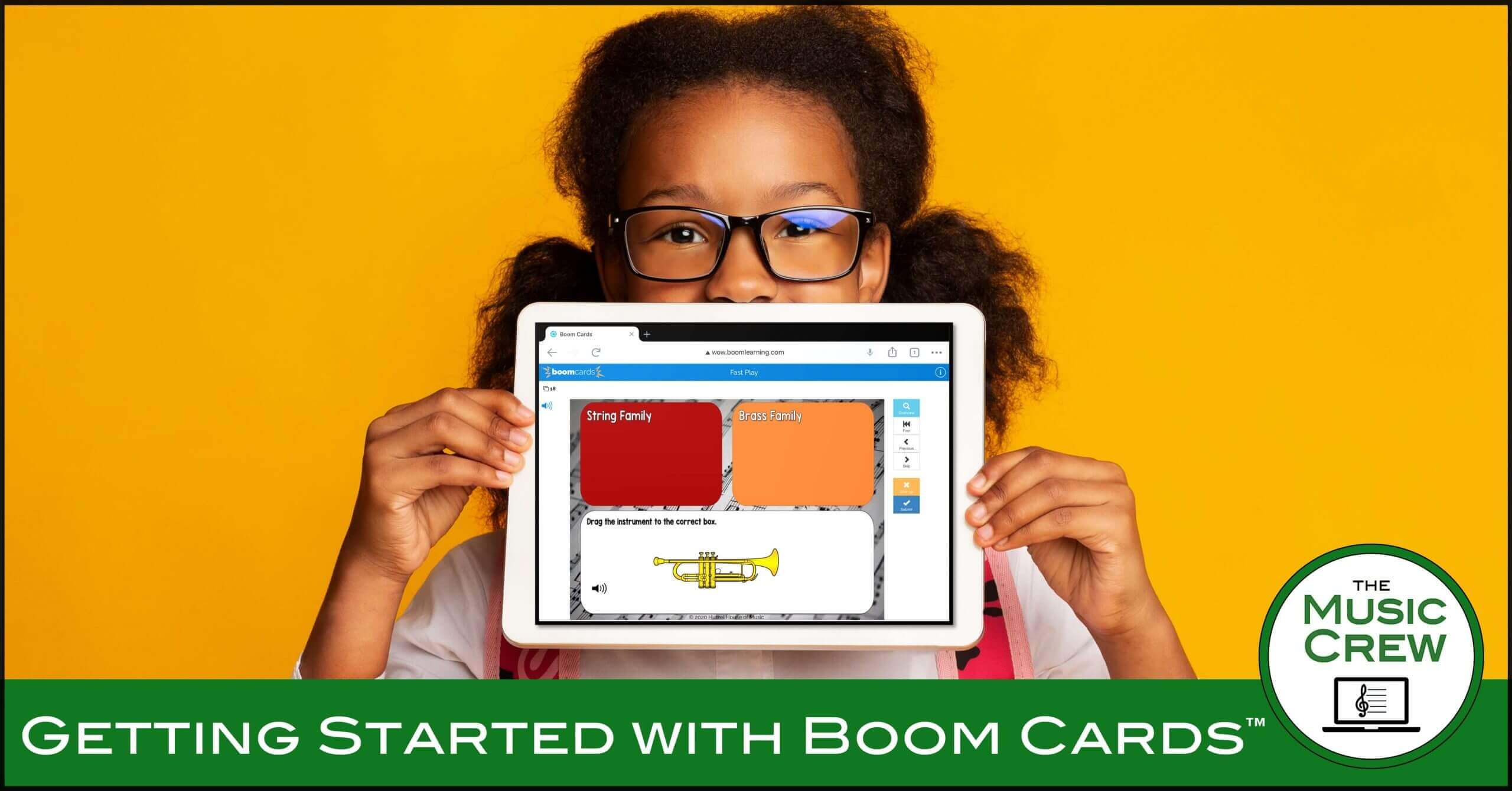 The year 2020 saw a major shift in the use of technology in music classrooms around the world. Many music teachers who previously were excluded from using technology with their students were suddenly faced with moving their entire curriculums online. Others have been able to work with their students in person, but under strict limitations that create vast changes to how we are able to interact with our students and deliver our content. If any of us had been told in 2019 that we wouldn't be singing in our classrooms this year, we would have laughed them out of the room. Unfortunately, this unimaginable situation has become our new reality. As we've all worked to navigate these changes, technology tools have come at us like an avalanche. With so many technology options available, it can be hard to find the right tool for each job. With that said, I'd like to take a moment to introduce you to Boom Cards™ and explain how they work.
What are Boom Cards?
Boom Cards are self-grading digital activities. These activities are available in sets called Decks. The decks are similar to flash cards, where students are presented with a question or problem, and have to respond with their answer. Decks are available with a wide variety of interactive methods to assess student understanding. These include (but are not limited to) matching, drag and drop, multiple choice, and short (typed) answer responses. Boom Cards are self-grading. Students get immediate feedback on whether they got the answer right or wrong, and then have the opportunity to correct their work if needed. You can have your class work on their own devices or play together on an interactive whiteboard. The interactivity is intuitive for students and works on most current Internet-enabled devices. (For a complete and updated list of compatible devices, click here.) 
Which Account Level Should I Choose?
There are several different account options available, which you can read about in detail on the Boom website. At the time this article was written (December, 2020), accounts range in price from FREE to $35 a year. Each account level has different options included. If you go with the ultimate $35 account, you will have access to an enormous amount of individualized data for up to 200 students (and you can pay an additional fee to add more students if needed). Unfortunately, most music teachers see far more than 200 students- and our budgets are typically not very generous. For me to get the ultimate level for all 500 of my students is not financially feasible- but thankfully, it really isn't necessary.

For my classroom use, I use the FREE version. With the free version, you lose out on the data collection piece, but you do get a MAJOR perk- no student accounts or logins to deal with! You can still assign your students the activities via what is called a Fast Play Link, which does still generate a score at the end. Students can simply show you their score if you are in person, or they can screenshot it to submit if you are online. Generating the link is easy, and then you just share the link with your students and they are ready to play!
Your Boom Learning Library
Before you can assign Boom Cards to your students, you need to add the deck to your library. All Boom Cards can be found by searching the Boom Learning℠ Store. You can also find Boom Cards for sale at Teachers Pay Teachers or on individual sellers' websites. Many sellers also have free decks available so you can check out their work before making a purchase. All Boom Card Decks can be previewed before purchase. The preview will show the first four slides of the deck as a student would see it. Select "Full Size Preview" to interact with the cards yourself while previewing a deck so you know what your students will experience. 
Please Note: If you purchase a deck straight from the Boom Learning Store, it will be added to your library automatically. If you purchase from an outside website, such as Teachers Pay Teachers, you will be given a link which you must follow to add the deck to your library.
Using Fast Play Links
Once you have the deck you want to assign in your library, creating and assigning a Fast Play Link is the easiest way to get kids going. To create your link, sign in to your account and navigate to your Boom Learning Library by clicking the Library tab at the top of the screen. From there, click on the blue Action button on the deck you wish to assign. Select "Fast Pin" from the list, then click on "Generate Pin" in the pop up box. After that, a link will appear that you just copy and paste to share with your students. One thing to note, is that this link is only active for 14 days. If you need the activity longer than that, you will just need to create a new Fast Play link (following the same procedure) and then update it for your students.
Once the link is created and shared with your students, all they will need to do is click on it to start playing. If you are using a LMS (such as Schoology®) you will want to set up the link to play in a separate browser tab, outside of the LMS environment.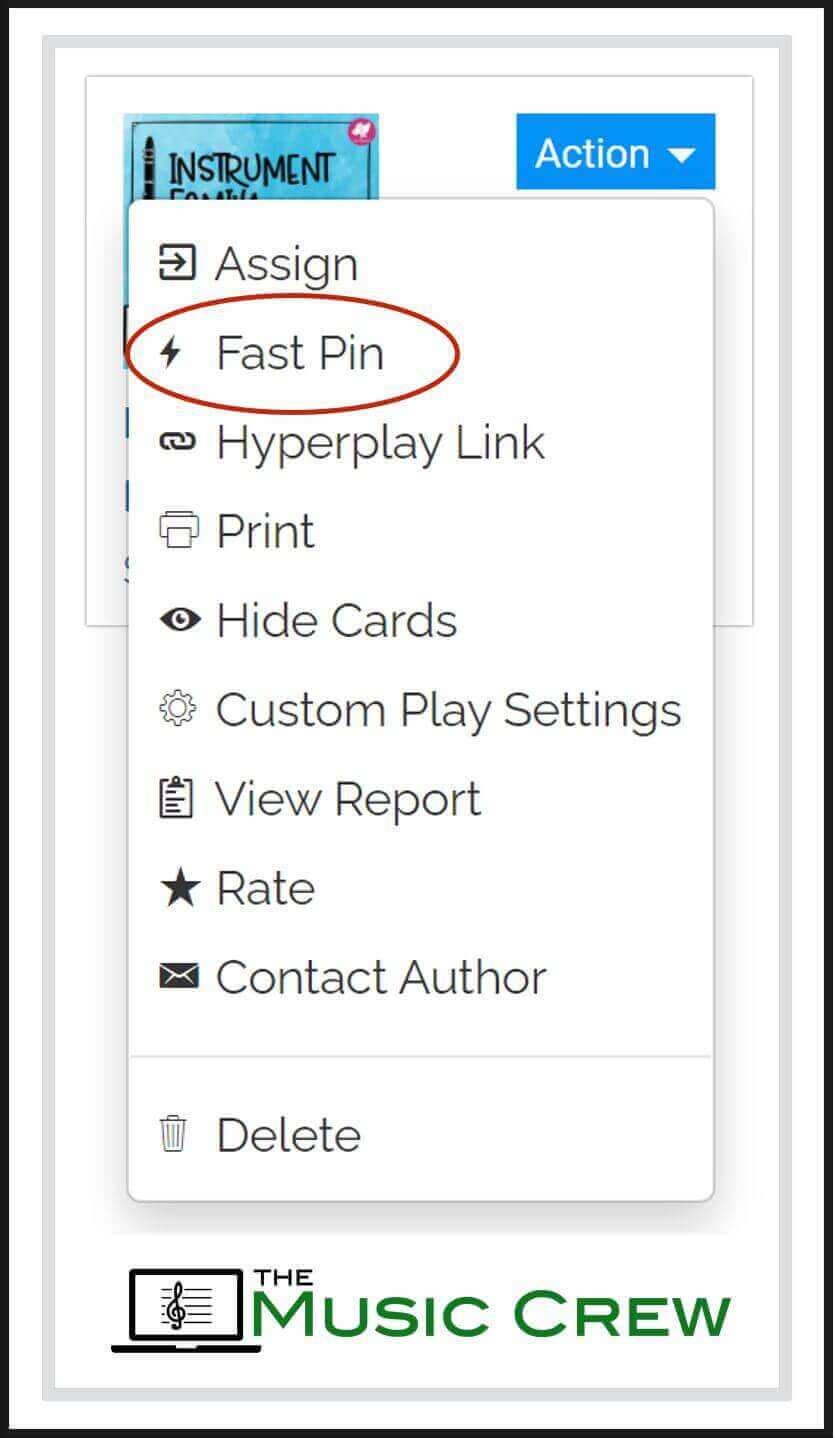 Since Boom Cards are self-grading, students will get a score report once they complete the deck. This score shows how the student did on their first attempt at each card- so if there were 15 cards and they had to take a second try at two of them, it would give a score of 13. If you are teaching in person, you can have students show you their score as they finish so you can record it in your gradebook. If you are teaching in an online setting, students can take a screenshot of their score to submit for a grade. (Make sure students know how to get a screenshot before getting started! If you're not sure, here's a helpful screenshot how-to article from PCMag published in June, 2020!)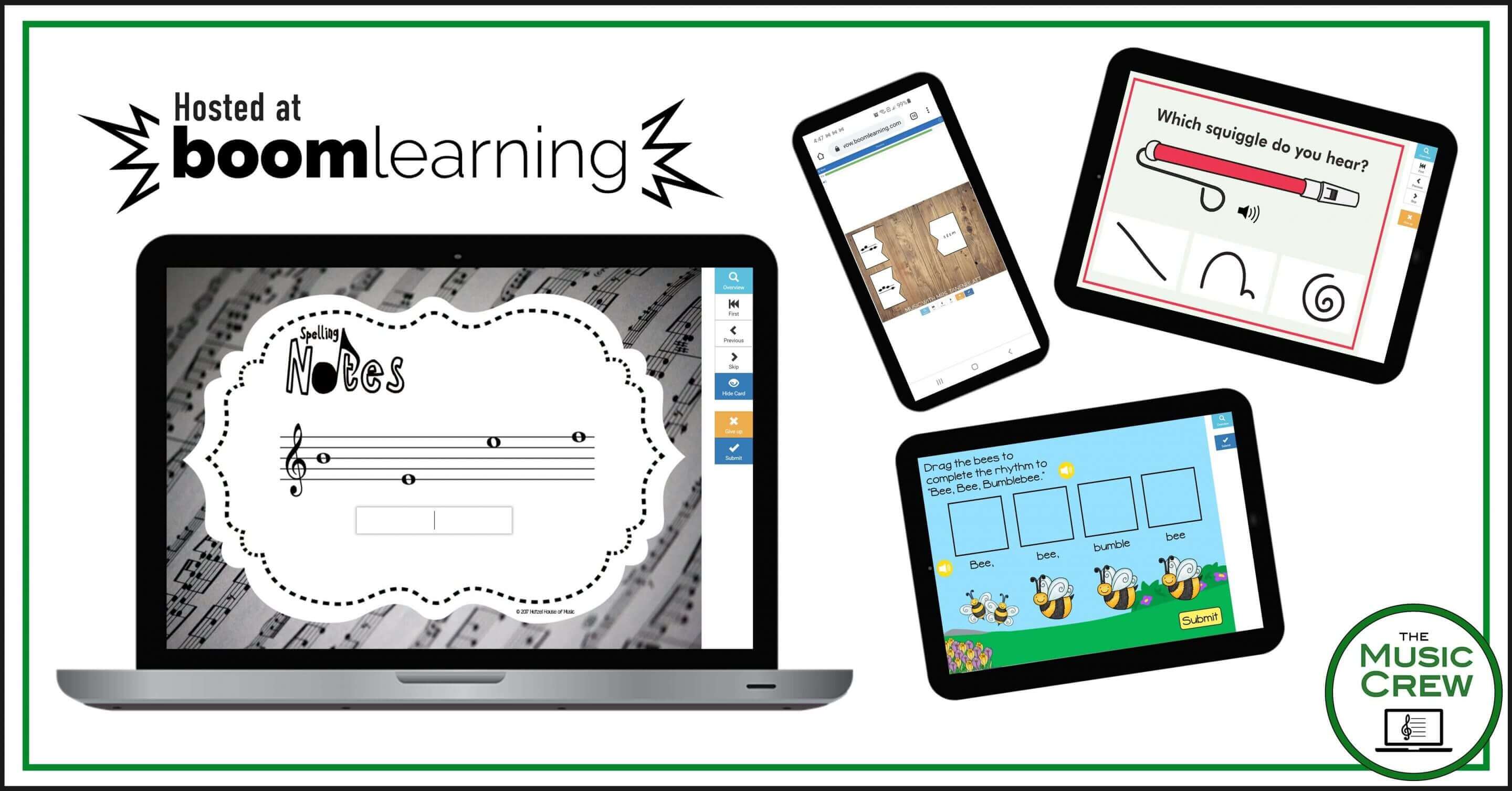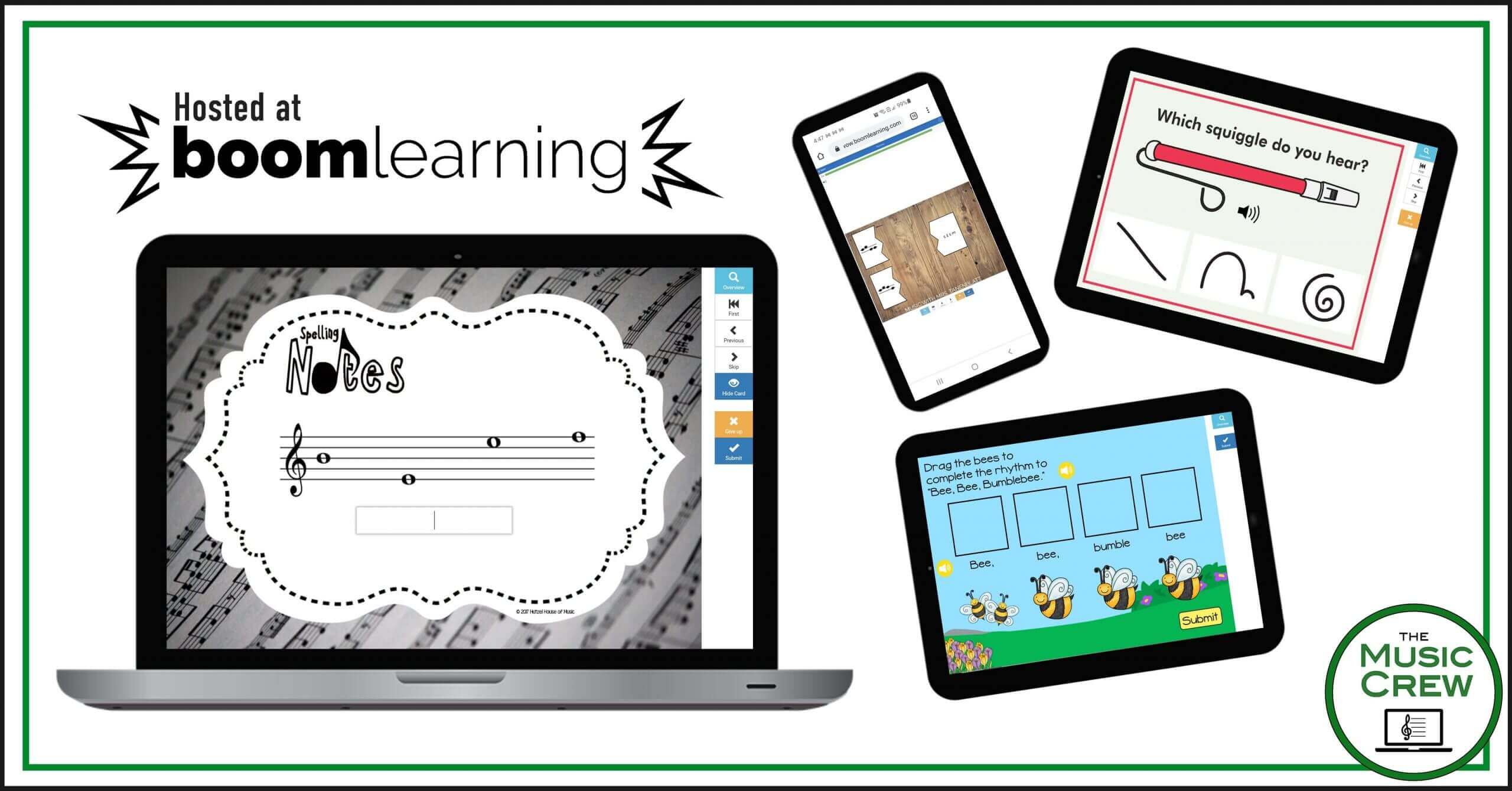 Several members of The Music Crew have Boom Cards for sale! Here are a few of our favorites to help you get started.
Chrissy at Hutzel House of Music has a great series of Boom Cards to practice note reading: Spelling Notes! These decks are currently available for Treble Clef and Bass Clef. There are three decks available for each clef that are divided by the length of the word that is being spelled. This allows for seamless differentiation. Grab all three treble clef decks, and individually assign them to your students based on their skill levels. The more advanced students can tackle the 5-6-7 letter words, while your beginners can work on the 3-letter words- and they'll never even know they aren't working on the same activity!
Jane at SillyOMusic has been making Boom Cards for several years and has TONS of great options available. Her favorite set is this Primary Boom Cards Set which is a collection of Boom Cards decks that cover the basics of music, including the 4 voices, pitch direction, and several musical opposites. This bundle is offered at a big discount over purchasing each piece on its own.
Melissa at Musical Interactions has several series of Boom Cards to explore. My students have been enjoying her Build-a-Song activities, such as this Bee Bee Bumblebee deck. Students are presented with a line from the song, and drag and drop their responses (icons, stick notation, or standard notation) into the boxes to match the rhythm to the lyrics. Melissa has several similar decks for different songs in her store!
Rachel at Music with Mrs. Tanenblatt also has Boom Cards available. These So-Mi-La Solfa Puzzles are a hit with the kids, as they match puzzle pieces to link the correct musical notation (on a two-line staff) to the given solfa phrase. 
We hope this helps you wrap your brain around this awesome platform. Boom Cards are fun for kids and easy for teachers to use- Win Win! What Boom Decks have you found to be most popular in your classroom? Let us know in the comments!
Boom Learning and Boom Cards are the trademarks of Boom Learning (a dba of Omega Labs Inc.) Used with permission.