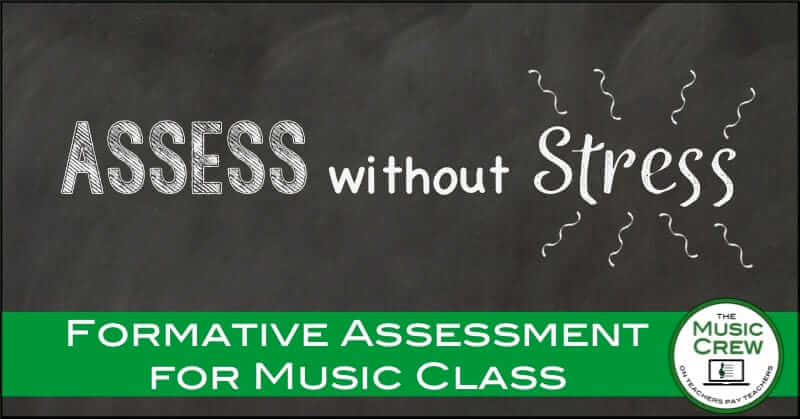 How difficult it is to assess music skills when we have hundreds of students!  We are all familiar with the traditional analytic rubric.  You know, the one with 3-6 different dimensions and 3-4 different criteria for each dimension.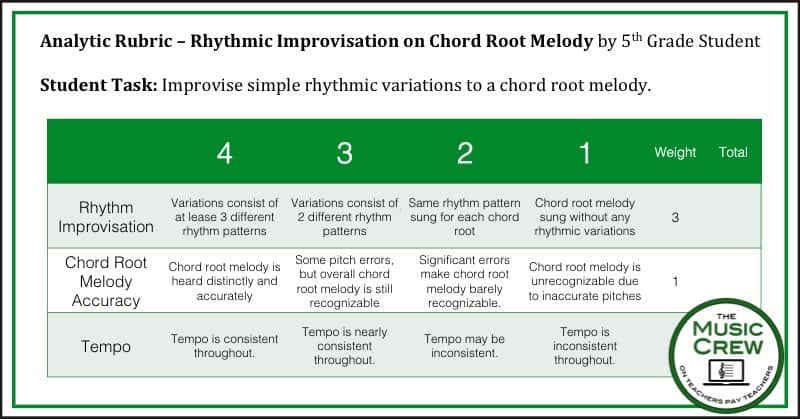 While this is a nice rubric and very appropriate as a summative assessment for a unit project or performance, perhaps many of you have the same difficulty that I do in trying to apply that rubric to 120 student performances during the course of the week.  I just can't get that finished in one week if I really try to make honest measurements of the rubric dimensions.  
My solution is to use shorter, more focused rating scales and other quick formative assessments during each class period.  Over time, these formative assessments give a good picture of my students' developing musicianship.  
Each rating scale has just one dimension, with three to five criteria.  Think of it as using just ONE row on the rubric.  The criteria may be additive, which is a form of a checklist.   The following rating scale is an example of a continuous rating scale, meaning that each level is increasing in difficulty.
Gather or create rating scales for major performance skills, and measuring student progress is now as simple as recording a number on a seating chart!  
A great, easy to understand resource is Rating Scales and Their Uses for Measuring and Evaluating Achievement in Music Performance by Edwin E. Gordon.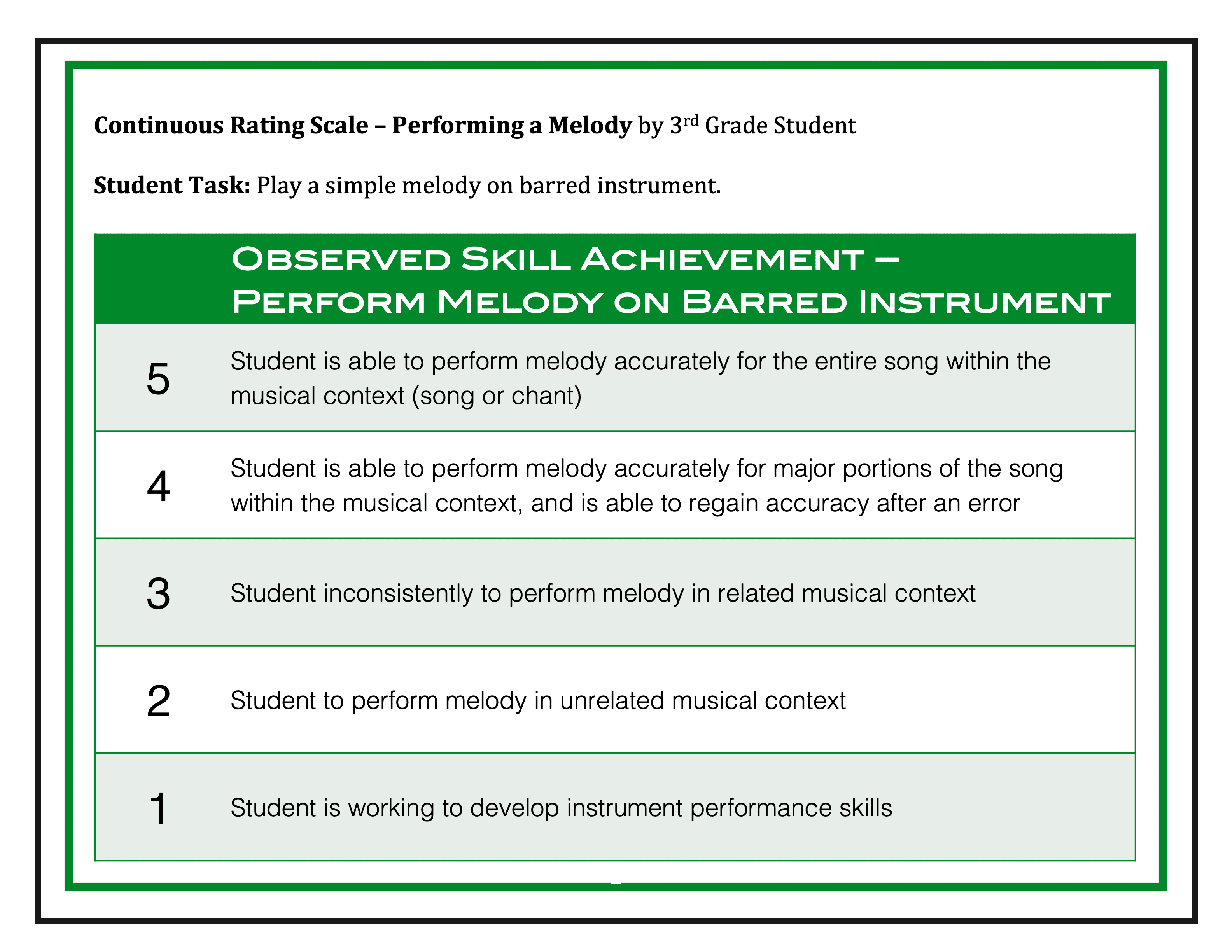 Additional Strategies for Formative Assessment from The Music Crew
Part Check – Groups of 3-4 students sing or play their part together.  Use VIDEO as a tool to speed up the performance process, and to allow you multiple views, if needed to determine an accurate score.
Exit Slips – Quick, formative assessments on lesson objectives    Many in The Music Crew have great resources for implementing exit tickets in your classroom.
SillyOMusic – Free time signature exit ticket
Google Forms – With more and more schools providing computers or iPads for students, using Google Forms for quick assessment is very simple.  The form could be a simple, electronic version of an exit ticket, or a longer quiz with various question types.
Station Activities – Teacher sits with small groups to assess.  This is a great suggestion from Sandra at SingPlayCreate.
Peer Assessment – Students use a kid-friendly rubric to assess partner and give feedback.
Self Assessment – Students give themselves a 4-3-2-1 rating using a generic rating scale.
SingToKids – iCan Marzano Scale
Performance Assessments – Additional strategies for using performance assessments.
Organized Chaos – Assessment in General Music – Performance Assessments
Written Assessments –  Sometimes you just need to have a paper/pencil record of students' learning!
The Yellow Brick Road – Assessment Bundle for Music
Technology Tools
Just a quick note about using technology as a tool to make keeping up with assessment scores easier.  Experiment with a few options before giving up!  Each situation and even each assessment is different.  Sometimes, a paper seating chart and a pencil is the best thing. I have been a big fan of the iPad app IDoceo for many years.  I show my assessment column on the seating chart, and it is a matter of tapping on the student picture, then tapping on the numeric keypad to enter the score into my grade book.   Marti from Mrs. Chandler's Music Room created an excel file containing the learning checkpoints (basically the I can statements) for each grade level.  She imports those into iDoceo for every class. As the students meet each standard, they get a check.  Simple!
I am excited to try a couple of new tech tools this school year. I began experimenting with the SeeSaw app to create student portfolios.   Quaver Music also has a great system for students to complete assignments and receive feedback and grades.
Keep it Simple
It goes without saying that music teachers areto keeping track of many, many students.  Just the sheer numbers can be overwhelming, but it really does make planning easier when you truly know what your students know and can do in music.  My philosophy is to learn something about my students during each class that will help me get to know them better as young musicians, and also help me plan lessons to develop their musicianship.