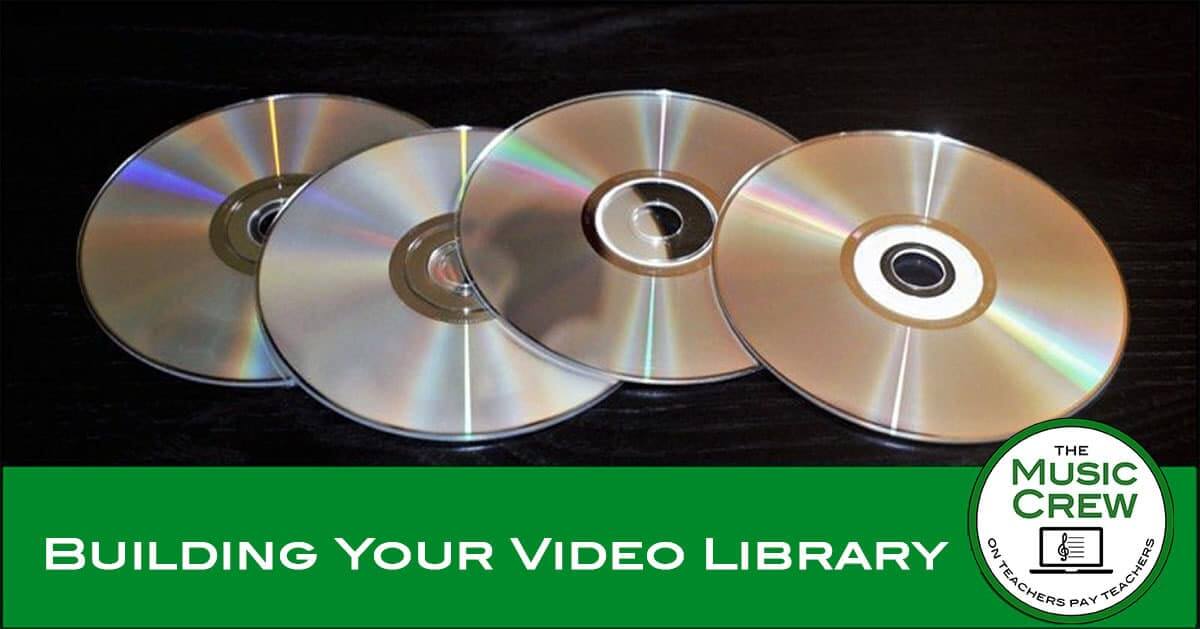 Have you found that video is very engaging for students?  My students are even super attentive when I make a video of myself presenting lesson information.  I could be standing right there next to the screen and they pay more attention to the video than to me! (I should do more of this!)  Because this medium does tend to engage students, using video can support your goals in teaching and learning of music concepts.  
Music Teacher or Sub?  As a music teacher, I tend to use shorter video clips to support the concept that I am presenting, and spend more time discussing, singing, moving, or otherwise working with the concept.  However, we all have need of sub plans!  Selecting videos that will support the concepts of my current unit helps to keep those students on track when I have to be out.
A brief statement concerning copyright.  Using commercial videos in a classroom setting counts as public performance, however there is a classroom use exemption to this law.  Part of this exemption includes the requirement that the teacher be engaged in face-to-face teaching activities.  My sub plans always include an introduction to the video, things to watch for during the video, and then discussion questions (and answers to help the sub) for use after viewing.  More information on the classroom use exemption can be found here:  https://www.lib.umn.edu/copyright/limitations
The following list of commercially available DVDs from my collection are arranged by subject.  I hope you will find something new that is useful to you in your practice!
Sing Along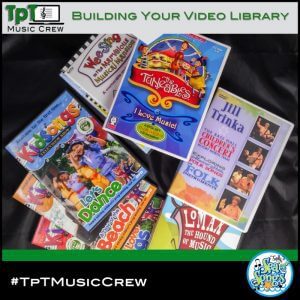 Jill Trinka, The Bass Hall Children's Concert
This 50 minute video is "a live-action teaching of folk songs and musical skills while introducing children to the folk guitar, autoharp, five-string banjo, and Appalachian lap dulcimer."  The live concert audience is first grade students, making the video appropriate for your younger students.  Use the video as a sing along if you have previously taught the songs, and also as an introduction to American folk instruments.  A very helpful booklet describing the teaching process for each song is included.
Wee Sing Marvelous Musical Mansion
This delightful video contains over 20 folk songs woven into a musical mystery.  Lots of musical references, such as Uncle Rubato and his cat named Cadenza make this one perfect for 3rd grade through 5th grade students.  How many music terms can they hear?  Can they solve the mystery?  Because the video os 71 minutes long video, spread viewing over two or more class periods.  This one is my favorite sing-along!
Wee Sing Train
Twenty songs and a little Wee Sing "magic" take the children on a trip on the toy train, singing and dancing at each stop along the way.  There is a cute story line, and a lesson about thinking before you act.  At 58 minutes long, this may also require more than one class period to view the whole thing.  This video will be better received by your students, especially if you choose to leave this in your sub tub, if they know at least some of the songs in advance.
Lomax, the Hound of Music 
The DVD contains four 30 minute episodes inspired by John Feierabend's "First Steps in Music."  Lomax is appropriate for your youngest students and great for class participation. This is my favorite for younger students!
KidSongs
Each of the KidSongs videos contains one 30 minute television show as seen on PBS Kids. The kids are the actors, announcers, camera operators and researchers, so this can be a great discussion of careers in music with any age students.  Each video has a theme, such as the beach, dogs, trucks, or dance.  The TV show includes a Question Time, where kids can learn some facts about something related to the theme.  For example, on the beach episode, the Question Time focuses on steel drums and the limbo dance.  As with all of the sing-along videos, it would be nice if your students knew at least some of the songs before viewing, however the video could also serve as an introduction to songs and dances that you may be planning to teach in the future.
The Tunables
I recently discovered this 30 minute animated, interactive DVD designed for young children.  Your students will move to the beat in music, hear and sing tonal patterns using do-mi-sol, improve the sound of their singing voices, and experience the sounds of classical music.  The animated story begins in a music shop in Tuneville, and many of the characters are instruments.   Pete the Trumpet, Sunny the Cymbal, Snare the Drum, Gloria the Piano, and Mo the Violin all encourage the children to participate in the songs and activities. The boxed set includes both the DVD and a music CD called The Music Box.
Instruments of the Orchestra
Zin Zin Zin, A Violin – Reading Rainbow Episode
A counting book that uses the names of different instruments and musical ensembles, this book takes the reader from solo through a full orchestra.  During the 30 minute Reading Rainbow episode, Levar introduces the viewers to individual performers and a conductor of the youth chamber orchestra at the Julliard School of Music, and also members of Stomp.  Other books reviewed during the episode include The Maestro Plays, Max Found Two Sticks, and Meet the Orchestra.  This video can be found on DVD, both as a single show, and also in combination with the Hip Cat episode on the DVD, "Music, Music, Everywhere."
Elmo's Musical Adventure:  A Sesame Street version of Peter and the Wolf.  
The Sesame Street characters make this video appealing to the younger set – I usually use this one in kindergarten and first grades.  In addition to learning about the instruments from conductor Keith Lockhart and members of the Boston Pops Orchestra, the Sesame Street characters also learn the secret to making great music is to work together!  This video, like most versions of the story, is quite long.  Divide the viewing between 2 lessons to give you and your students time to discuss and review the information about the various instruments.  Other versions of the Peter and the Wolf story, such as the Jim Gamble puppet version or the Kirstie Alley version, might be more appropriate for older students.
Carnival of the Animals
Another great musical story, the Carnival of the Animals is helpful for reinforcing the sounds of specific instruments.  They are more memorable because of the animal characters that the instruments are portraying.  The version that I have used for the longest time is the Gary Burghoff version (I bought a VHS tape about 20 years ago!).  You can get this on DVD now, but please beware that the Ogden Nash poetry includes the terms Jenny Ass and Jack Ass in the poem about the wild donkeys.  If you choose to use this version, you will have to decide what to do – explain it or mute it.  Other possibilities include the Jim Gamble puppet version, or even the Wiggles animated version.  Many of the movements can be found on YouTube.
Listening
Animusic
I bought this after reading great recommendations by some friends on the Music K8 email list, but I wasn't immediately sold on it's value.  Personally, I loved it, but it didn't seem to hold my students' attention like it did my own.  Then, I created a worksheet with a blank space at the top, some writing lines at the bottom, and this prompt:
These instruments were created by artists!  Design your own instrument in the space above.  Describe your instrument on the lines below.  What will your instrument sound like?  Will it play the melody?  Will it play an ostinato?  Will it have high or low pitches?
The responses that I got when I allowed the students to draw while they watched were amazing!
Fantasia, Make Mine Music
Disney classics have nice animations to accompany classical music.  "Casey at the Bat," and "The Whale Who Wanted To Sing At The Met"  are two of the great classic stories included.  Both DVDs are quite long, but they consist of a series of shorter films.  Spread the viewing over many class periods, or even view one segment at a time.
Move It! and Move It! 2
This collaboration between John Feierabend and Peggy Lyman brings us a suggestions for movement to huge list of classical tunes.  There are 20 tunes on each DVD.  The set also comes with a listening CD and a 32 page booklet with instructions for each musical selection.  The disc menu is designed to allow you to select one specific piece, or play all.  I prefer to use the Move It! DVD as a teacher learning tool, and teach the movements myself, however using the DVD to teach the movements to your students is also an option.  
Sound
Magic School Bus The Haunted Mansion
In her inimitable style, Ms. Frizzle teaches her students about the science of sound.  Of course, the Magic School Bus just happens to stop at a haunted mansion, so there are LOTS of interesting sounds!  I use this as a part of my unit on sound with 3rd and 4th grade students.
Jazz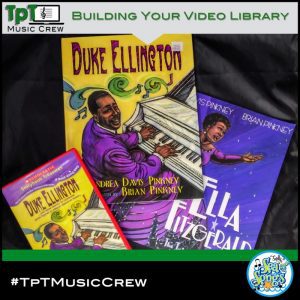 Duke Ellington Read-Along DVD
I found this Scholastic Storybook Treasures DVD, and have enjoyed using it!  The stories included on the DVD are Duke Ellington by Andrea Davis Pinckney, Ella Fitzgerald: The Tale of a Vocal Virtuoso by Andrea Davis Pinckney, Ellington is Not a Street by Ntozake Shange, and John Henry by Julius Lester.  I already had Duke Ellington and Ella Fitzgerald books, so this is a nice addition to those lessons because the DVD includes music by these artists.  Leaving the books, this DVD, a listening worksheet and discussion questions made a great sub lesson.
Hip Cat – Reading Rainbow Episode
Jazz is the topic of this episode!  Hip Cat is the story of a saxophone playing cat who creates a sound all his own. Levar introduces viewers to Joshua Redman, a jazz saxophonist, and to the members of the Bill Saxton Quartet.  We learn about the concept of improvisation, and experience examples of improvisation in music, literature, art, and dance.  Other books reviewed in this episode include Conga Crocodile, Charlie Parker Played BeBop, and Willie Jerome.  This video can be found on DVD, both as a single show, and also in combination with the Zin, Zin, Zin, A Violin episode on the DVD, "Music, Music, Everywhere."   
JazzTime Tale
I have an old VHS tape of this one! This 30 minute animated film is set in Harlem in 1919.  The jazz music of a young Fats Waller brings two girls from different parts of town together in friendship. A JazzTime Tale is included on the DVD titled Marzipan Pig.  It is also found on United Streaming, or on YouTube here: https://www.youtube.com/watch?v=ZB_vvJdQ0is
Composers
Bach's Fight for Freedom
Bizet's Dream
Handel's Last Chance
Liszt's Rhapsody
Strauss, The King of Three-Quarter Time
Beethoven Lives Upstairs
Each of these composer stories is told from the perspective of a child who comes in contact with the composer.  Discussing the genre of historical fiction, which parts might be historically accurate and which parts might be fiction, makes a connection with language arts genres.  While I do leave these for subs, I find that they are more effective if I am able to set up the story and prepare students for parts that they may not understand.  I tend to use these videos with my older students, 3rd through 5th grades, and they would be appropriate for middle school classes as well.
Musicals
Where else would children learn the awesomeness of musical theatre if not presented in our music classrooms! Most child-friendly musicals will have examples of choral, solo, and small ensemble singing, as well as examples of the different voices:  soprano, alto, tenor, bass, man, woman, and child.  Retelling the story, discovering how the music helps to tell the story, making connections with the historical time period, discussing musical careers, and singing some of the songs, are ways to prepare students to view the musical.  Conference with your classroom teachers to find out the reading and comprehension skills that they may be working with in their classrooms, and call attention to those concepts as you learn the story.  Most of us have shorter class periods, so the viewing will need to take place over several classes.  
If you have not taught musicals before, I might recommend beginning with The Music Man, Annie, or Mary Poppins.  Get started by searching online or on Teachers Pay Teachers to find viewing guides and discussion questions.  As with any video, always pre-view the musical to determine if it is appropriate for your school and community.  
Choose Carefully!

Please don't think that all I do is show videos!  My collection allows me to rotate the titles year by year, and save certain videos for specific grades.  Students do not have to see the same video year after year.  Having a video collection that crosses many categories makes planning for a sub much easier because there is always something that will coincide with my current unit.
These are the titles that I make the most use of in my music classroom.  There are many more titles available!  If you have a video resource that you use successfully in your classroom, or in your sub tub, please share a little about it in the comments.
Musically,
Sally Utley
Sally's Sea of Songs
SaveSave
SaveSaveSaveSave