A class set of ukuleles can open up a whole new world for students. However, classroom management with anything that makes sound can always be a challenge. In this post, check out my top 3 tips for ensuring your classroom remains a safe and welcoming learning environment for students!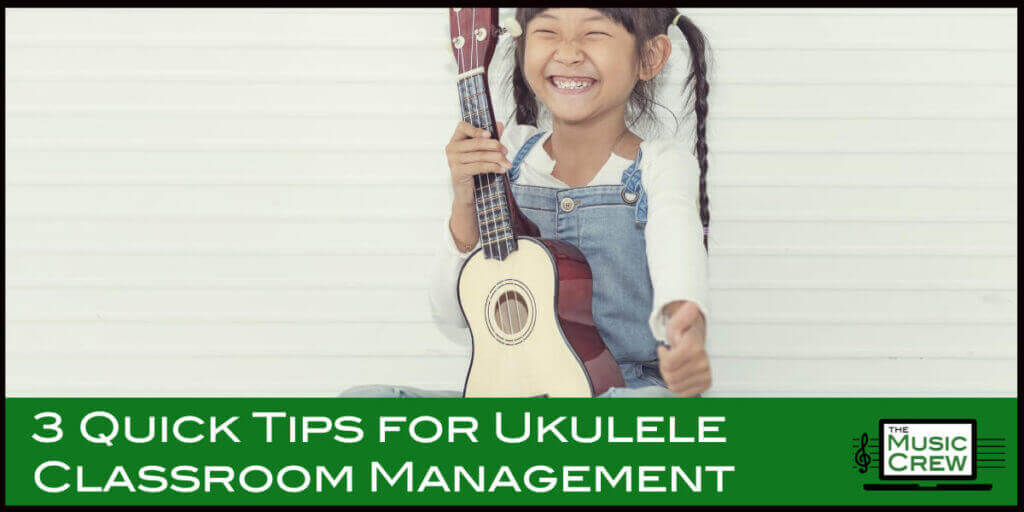 Tip 1: Practice Instrument Retrieval and Clean Up
Instrument damage rarely happens in the middle of class while everyone's strumming along to a song. The most precarious moments in music class are often the transitions. Taking the time to have students practice calmly walking to the instrument storage area and gently picking up or putting away their ukulele will help tremendously in preventing accidental damage.
Tip 2: Set Expectations for What Students Do When They Aren't Playing
If a student has their hands on something that makes sound, they will end up noodling around on that instrument if they aren't told otherwise. On day 1, make it clear when students should and should not be playing. Your students will play when you are talking unless you tell them not to do so.
Pro Tip: Establish a rest position with the ukulele on one knee and the hand on the other knee so students' hands are separated and won't be tempted to play.
Tip 3: Review and Go Back to Basics as Needed
Expectations do not need to be a one and done type of deal. If you find students are not following classroom expectations, go back to square one and revisit them. Whether you're 1 month into the year or 2 months away from the end of the year, taking time to practice and review expectations can help class run a little smoother.
Bonus Tip: Start Your Ukulele Program Off Strong
If you're looking for guidance on how to get your ukulele program started or you're looking to refresh what you already have in place, check out this free Ukulele Starter Kit! This kit gives you everything you need from ukulele brand recommendations and sample letters to send to families to how to make ukulele straps and how to implement a fun bead motivation system.