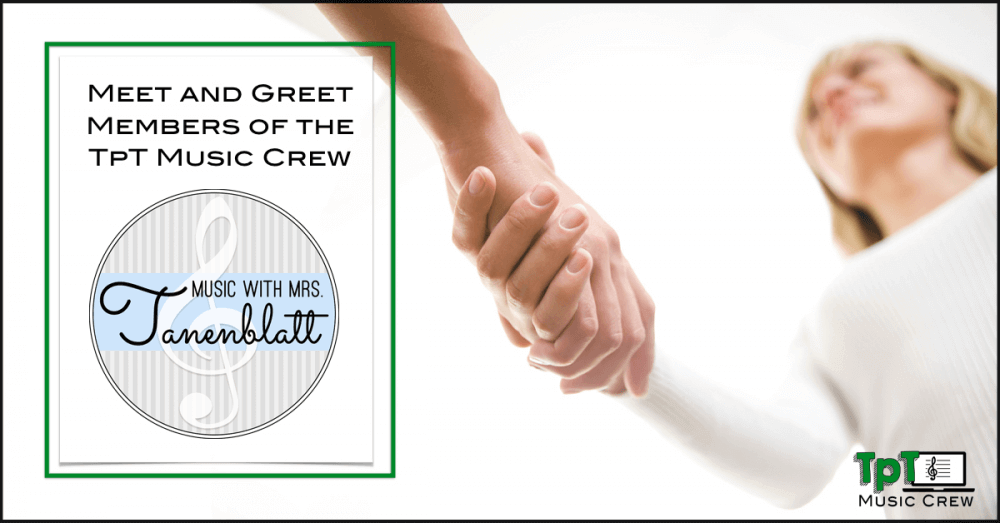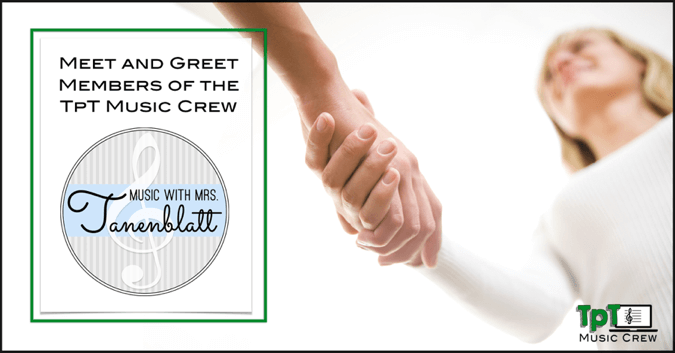 What I Have Taught:
PreK-5th grade general music, 4th-5th grade chorus, K-7th grade Hebrew school music
Where I am From and Where I Have Taught:
I was born and raised on Long Island, NY but moved to Maryland after college to be with my wonderful husband. Since moving here I have taught at four different public elementary schools and one synagogue. It's been wonderful to see such a wide variety of schools in a relatively short amount of time!
Favorite Teaching Memory:
A few years ago, I had a kindergartener who sang everything an octave higher than she was supposed to. All of her pitches were perfectly accurate, it was just all too high. She had no idea that she was doing anything wrong. I tried different things, having her echo after me and sing solo, but nothing seemed to make any difference. A few months into the school year, I taught her class a lesson on different voices (speaking, whisper, singing, shouting, adult, child, etc.) and all of a sudden I saw the light bulb go on for this girl. Something in that lesson just clicked for her and all of a sudden, she got it. I'll never forget the look on her face when she made that connection and finally realized. Now, this girl is one of my strongest singers in her class. Those light bulb moments are the reason why we continue to teach, day after day: to help bring joy and understanding to children like that.
Quick, Fun Facts About Me:
In addition to my love of choral singing and all things music, I am also a huge fan of sci-fi, coffee, and cats. Last year my husband and I adopted a kitten named Cora who has basically taken over our home.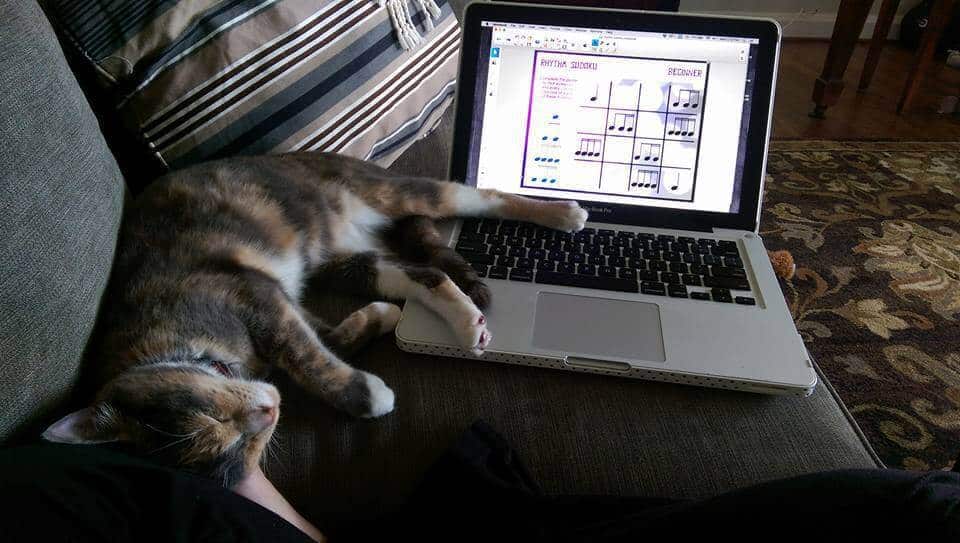 Why I Love TpT:
A few years ago, I found out that due to overcrowding I would have to start teaching music on a cart at one of my schools. While this news was devastating, I refused to let it stop me from providing my students with the best quality music education. I learned to adapt my lessons and think on my feet to be able to use whatever resources were available in each classroom. The one thing every classroom had in common? A smartboard and projector. I turned to TpT to find engaging digital lessons that I could quickly load and use in each classroom. After using resources from TpT for a few weeks, it occurred me that I have the skills and graphic design capability to create products like that of my own! I love being able to share the things I've created. I consider it the greatest compliment when a teacher tells me that one of my products has helped her teach in a difficult situation, like I had to do when I started teaching on a cart.
Music Teacher Quick Tip:
Need to get a group of kindergarten students to be quiet and attentive during your lesson? Tell them that whatever activity you're doing is a game! It doesn't seem to matter to them if you're singing a song, cleaning up materials, reading lyrics and notation, playing instruments, writing rhythm, using manipulatives, or actually playing a game. Just tell them it's a game and they ALL get quiet and want to listen!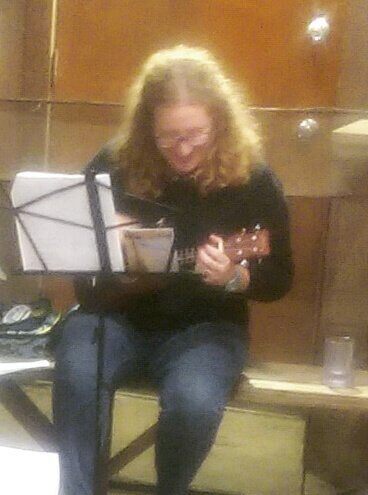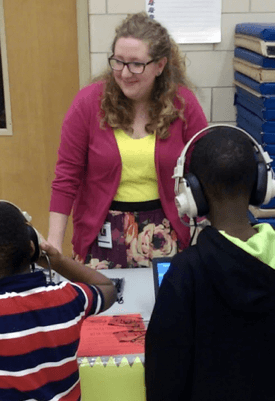 Two products you may not have seen in my store:
As I mentioned previously, my initial reason for starting my TpT store was so that I could share projectable smartboard lessons with other teachers. However, I also offer many resources that are more hands-on and many that focus on creativity and composition.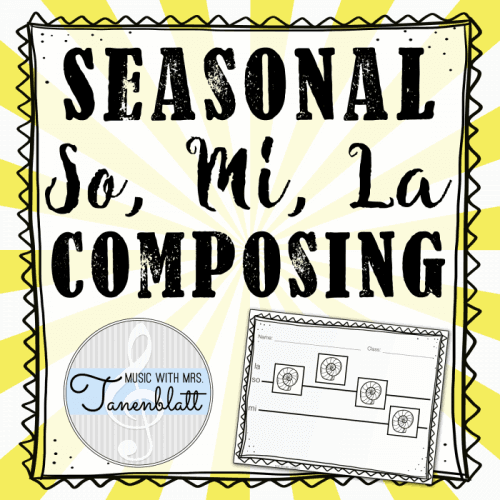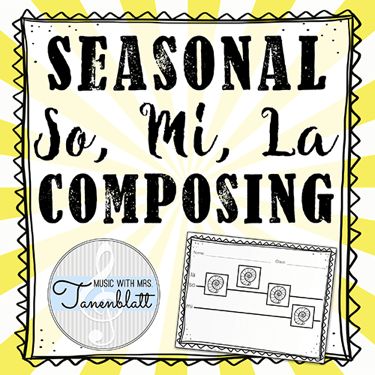 You can compose so-mi-la melodies all year long with this set. Ten different seasonal icons are included to give your students months of composing fun!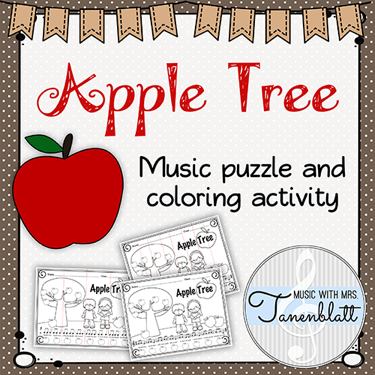 After I've taught my kiddos a folk song, I try to extend their learning with something to write, make, or draw. This series of folk song puzzles can be used as a great keepsake for students to treasure long after they've finished singing the song in class.
Thanks for reading!  I'm so excited to be a part of the crew and to get a chance to get to know you better!  Stay tuned over the next few weeks for a lesson idea from me and more Meet the Crew!
If you want to know more about me, visit my website! 🙂
Musically,
Rachel Tanenblatt
Music With Mrs. Tanenblatt

[et_social_follow icon_style="slide" icon_shape="rectangle" icons_location="top" col_number="4" outer_color="dark"]